NASA's Curiosity rover drills into Mars' surface, is feeling a bit thirsty
Curiosity digs into Mars' surface, is on a mission to find water.

Published Mon, Feb 11 2013 5:32 AM CST
|
Updated Tue, Nov 3 2020 12:24 PM CST
NASA's Curiosity rover, when not checking in on Foursquare, is discovering new things all the time - this time, it is digging into Mars' surface looking for water.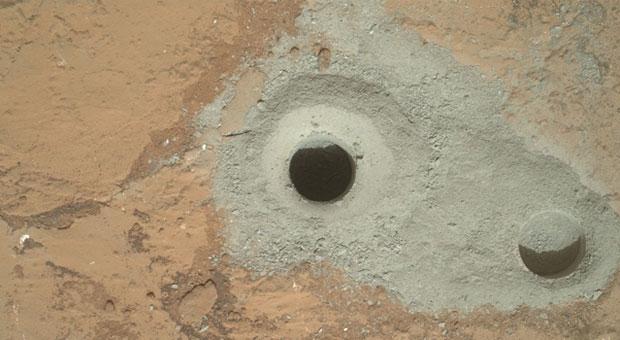 Curiosity whipped its drill out and started chewing into the bedrock of Mars, digging a 0.63- by 2.5-inch hole. We won't find out the results to its discovery for a few days yet as the rover will analyze its findings, hoping to find water. The picture above shows the first ever hole drilled into the red planet, and while it may seem like it was easy, it really wasn't. Louise Jandura, Chief Engineer of the rover's sample system says:
Building a tool to interact forcefully with unpredictable rocks on Mars required an ambitious development and testing program. To get to the point of making this hole in a rock on Mars we made eight drills and bored more than 1,200 holes in 20 types of rock on Earth.
Related Tags