RIAA copyright takedown requests for Google hit new highs, nearly 10 million
RIAA requests nearly 10 million copyright takedowns for Google.

Published Wed, Feb 6 2013 4:37 AM CST
|
Updated Tue, Nov 3 2020 12:24 PM CST
Google's Transparency Report now includes takedown requests, where we see the Recording Industry Association of America (RIAA) requesting nearly 10 million URLs to be taken off the Internet.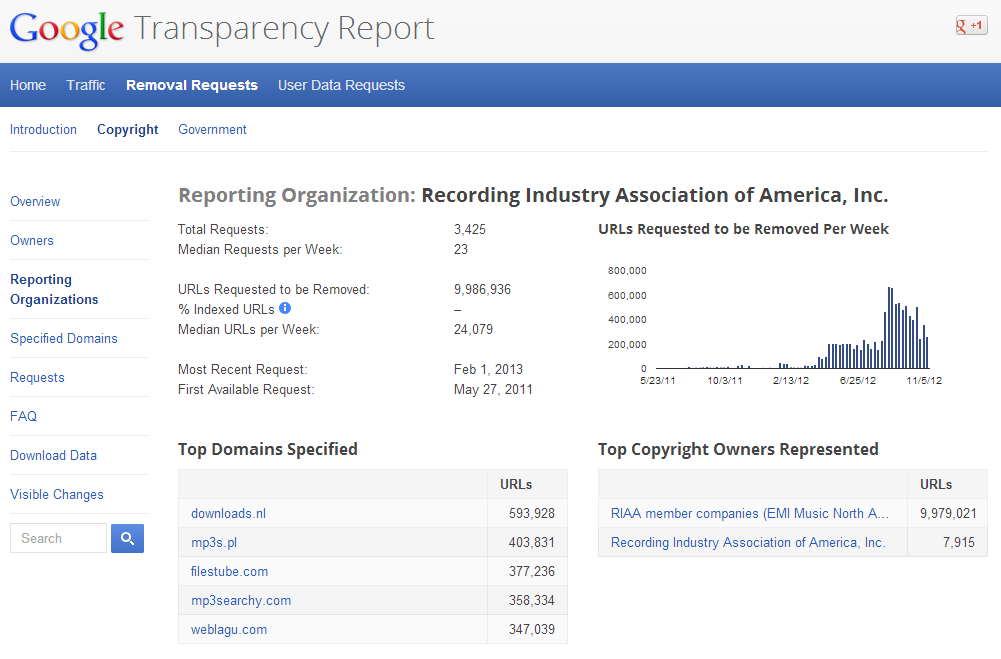 The exact number of URLs requested to be removed sits at 9,986,936, with their most request request just days ago on February 1. The offending sites? Well, the top five domains are downloads.nl, mp3s.pl, filestube.com, mp3searchy.com and weblagu.com. The top copyright owners represented are the RIAA member companies, requesting virtually all of the near-10 million, with 9,979,021 URL takedown requests, with the RIAA requesting just 7,915 be taken dwon.
Google were seeing close to 800,000 takedown requests per week from the RIAA August-October of 2012 timeframe, but it looks to have died down to around 250,000 takedown requests as we reached November.
Related Tags