Magnitude 8 earthquake strikes off the coast of the Santa Cruz Islands
M8+ earthquake strikes the Santa Cruz Islands, tsunami warnings and alerts in place.

Published Tue, Feb 5 2013 8:55 PM CST
|
Updated Tue, Nov 3 2020 12:24 PM CST
An 8-magnitude earthquake has struck just off the Santa Cruz islands, after weeks of tremors. I've been reading that most sites are reporting that there have only been a few tremors, but there has been nearly two weeks of tremors averaging at 5-magnitude.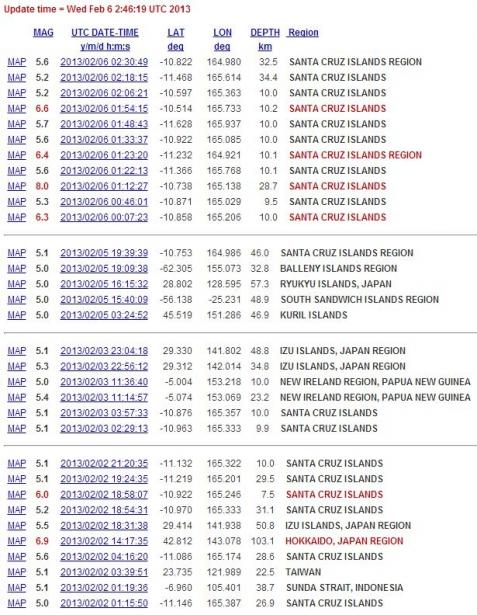 The earthquake has resulted in tsunami warnings for many places, including Solomon Islands, Vanuatu, Nauru, Papua New Guinea, Tuvalu, New Caledonia, Kosrae, Fiji, Kiribati, Wallis and Futuna. There is also a tsunami watch in effect for American Samoa, Australia, New Zealand and eastern Indonesia. The earthquake happened at 12:12pm local time.
It struck at a depth of 5km, just off the Santa Cruz Islands, which are part of the Solomon Islands nation. The above picture shows just the last few days, where the Santa Cruz-based EQs have been rattling along for days now.
For those interested, you should look into space weather involvement, with videos from YouTube poster suspicious0bservers pretty much predicting these things. It just goes against mainstream science, but NASA are now walking along the same lines as some of these posters like s0.
Related Tags