It never fails, just when you are finally getting comfortable with your new Apple device, the company releases an upgraded model that you just have to have. That just may be the case for iPad owners across the US today as Apple has just released the 128GB version of its latest tablet.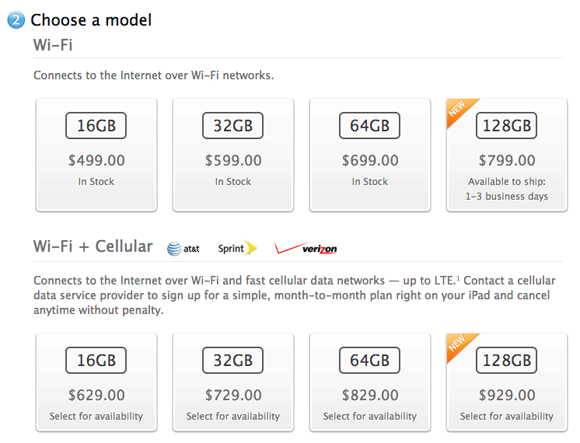 The new 128GB iPad is the company's most expensive yet with the WiFi model costing a hefty $799. If you want the LTE capable version, you will need to add $130 to the price tag, bringing you to $929 total. The new device is available for purchase now at the Apple Store online with the WiFi version making it to your house within three days.
Apple, as well as its fan boys, has stated that the 128GB iPad could be a true laptop killer. While I think that some users will inevitably switch over, I feel that for the most part, laptop users will continue to augment their PC usage with a tablet. This is mainly because neither the iPad nor any Android tablet out there has the functionality to fully take over the duties of a notebook at this point. What do you think? Let us know in the comments.