Facebook is trying out emoticons in the status bar
Facebook conducting small test of emoticons with statuses.
Published Thu, Jan 31 2013 5:28 PM CST
|
Updated Tue, Nov 3 2020 12:25 PM CST
Facebook is testing a new feature that will allow users to attach an emoticon to a status update. So if you're feeling happy, you can have a smiley face next to your status. If you're reading, you can have a book. The options are in addition to your actual status update, and you can get pretty specific with what you are doing.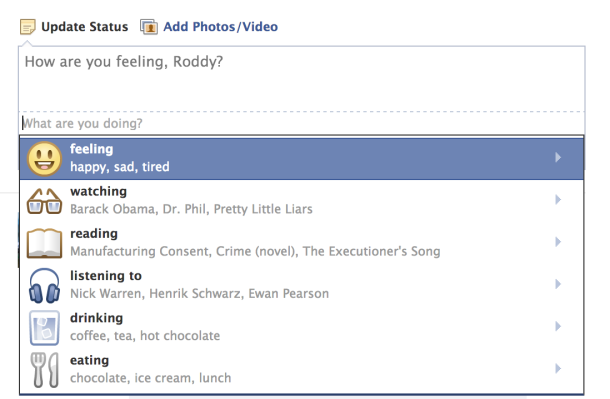 Facebook is calling the new feature a "really small test" and isn't saying much about the new feature. It's only available to a small group of users and there is no promise of it ever being rolled out across the network, nor a time frame for which it would be.
The box "What are you doing?" allows users to select a category, such as "feeling." You can then select another option, such as "happy" or "sad." We'll be sure to report more on this topic when Facebook lets the cat out of the bag.
Related Tags