I have multiple systems here in my home office, and every single one of them features an SSD or three. I can't stand to use mechanically-driven storage drives as my OS drives anymore, and with the price dropping almost on a weekly basis, most users are doing the same.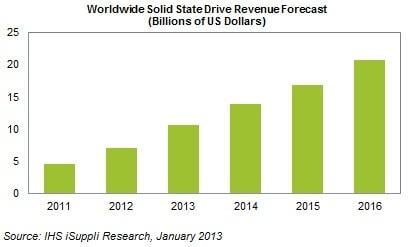 According to IHS analyst, Ryan Chien, the "fate of the SSD business is closely tied to the market for Ultrabooks and other ultra-thin PCs that use cache drives." The SSD market is set to really expand this year thanks to the push of Ultrabooks and other new form factors, such as SFF and Intel's NUC-type systems.
According to IHS' Storage Space Market Brief, worldwide shipments of SSDs will go from 39 million units in 2011 to 83 million units this year. By 2016, we should be in a world where 239 million SSDs are shipped, which will represent around 40% of the entire HDD market in that year. This is all thanks to the constantly declining price of SSDs, which is helping them get pushed into more and more systems and new form factors thanks to its low-power consumption, noise and heat.
Chien also stated that SSD shipments increased by 124% in 2012, with projected growth actually higher than these numbers. This, according to Chien, is in result to the lackluster sales of Ultrabooks, "due to poor marketing, high prices and lack of appealing features".
The average selling price of NAND flash memory has dropped significantly, which has helped PC manufacturers to push SSDs into their systems more willingly. The report also stated that improvements within nonvolatile memories such as STT-RAM and resistive RAM also indicate performance improvements far beyond the capabilities of NAND flash memory.