Intel intros new SSD 525 Series, is destined for Ultrabooks and low-power SFF systems
Intel announces their new 6Gb/s Intel SSD 525 series for Ultrabooks, small form factor PCs.

Published Mon, Jan 28 2013 10:00 AM CST
|
Updated Tue, Nov 3 2020 12:25 PM CST
With Intel shifting gears and reversing out of the motherboard business, moving into their Next Unit of Computing (NUC) and reducing power consumption on their processors, a new SSD has been unveiled by the Santa Clara-based chipmaker.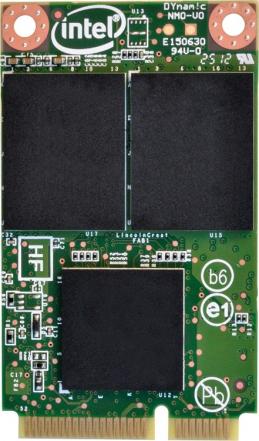 Welcome the new Intel SSD 525 Series, which comes in an mSATA form factor attached to the 6Gb/s SATA standard. Intel will be providing the SSD 525 Series to OEM customers, channel and tech enthusiasts as an ultra-portable, low-power storage solution in "one-eighth the space of a traditional 2.5-inch hard disk drive". In other words, Ultrabooks, tablets and embedded applications.
Thanks to its PCIe mini-connector, the SSD 525 Series drive will sport the same performance of the Intel SSD 520 Series, making the SSD 525 the perfect choice for all-in-one desktops, notebooks, Ultrabooks and more - such as cars, digital signage, embedded video and retail solutions, too.
Performance-wise, we're looking at random read performance of up to 50k IOPS, and sequential read performance of up to 550MB/sec. Random write performance we should see ramp up to 80k IOPS and sequential writes of around 520MB/sec. The new Intel SSD 525 Series will arrive in 30GB, 60GB, 90GB, 120GB, 180GB and finally, 240GB. Intel have begun shipping the 120GB and 180GB options, with the other capacities shipping this quarter.
Intel's SSD 525 Series also includes Advanced Encryption Standard (AES) 128-bit encryption which will give you an extra layer of protection over your data. The drives are made from Intel's 25nm multi-level cell (MLC) NAND flash, and are backed up by Intel's 5-year limited warranty.
Related Tags