Google releases latest Transparency Report, shows US government leader in requesting data
Google updates their Transparency Report, shows US continues to lead the charge.
Published Wed, Jan 23 2013 8:02 PM CST
|
Updated Tue, Nov 3 2020 12:25 PM CST
Google's semi-annual Transparency Report has been updated today and the new data shows that requests for data from the search giant continue to increase. The US government leads the way in requesting data from Google. In fact, the amount of data requests as increased by more than 70 percent since 2009.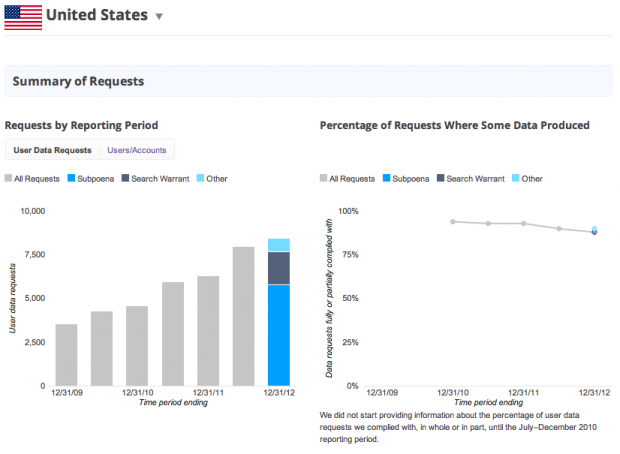 For the period from July to December, Google received 21,389 requests for information about 33,634 users. The United States government led the charge with over 8,000 requests for information that encompassed almost 15,000 user accounts. 88 percent of these requests had at least some data produced.
India was the next highest on the list, but only requested about 25 percent of what the US did. They made 2,400 requests about roughly 4,000 users. France, Germany, UK, and Brazil round out the list of governments who put in more than 1,000 user data requests.
Google has pushed on other companies to put forth similar data sets. Facebook would be a really important report, if they were to issue one. However, they say that "We do not have any immediate plans to release a report, however, we have been working diligently on meaningful transparency such as the Law Enforcement Guidelines in the Help Center and our work with the Digital Due Process coalition to ensure the privacy of our users. While we will continue to evaluate our plans in this area, we devote our primary efforts to auditing every request we receive to ensure the strictest compliance with law."
Related Tags