US Army's Advanced Combat Helmets are capable of stopping AK-47 rounds
US Army's Advanced Combat Helmets protect soldier's head from AK-47 round.

Published Wed, Jan 23 2013 3:34 AM CST
|
Updated Tue, Nov 3 2020 12:25 PM CST
Over 1.2 million of the US Army's Advanced Combat Helmets have been handed out to troops in Afghanistan and Iraq, where one of them has stopped an AK-47 round from killing an Iowa National Guard member.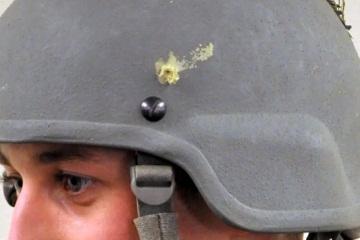 Command Sergeant Major Emmett Maunakea said "it was able to stop and not allow the bullet to go ahead and penetrate his head at all". Tom Albers, from Alton, Iowa, was on patrol in Afghanistan 19 months ago when something hit his helmet and knocked him to the ground. His fellow guardsman, Adam Riediger, when speaking to the Le Mars Daily Sentinel, said "I asked him what had happened because he was coherent. He said 'I think I got shot'".
The Army then analyzed the damaged Advanced Combat Helmet, and returned the helmet to Albers earlier this month. Albers told the newspaper:
The last time I remember seeing the helmet. I was sitting in a helicopter looking at the inside and seeing the pads (inside the helmet) all tore up.
Related Tags