RumorTT: NVIDIA readying GK110-based GeForce Titan card, would retail for $899
Rumor: NVIDIA readying $899 GeForce Titan card ahead of AMD's HD 8000 series launch.
Published Tue, Jan 22 2013 7:02 PM CST
|
Updated Tue, Nov 3 2020 12:25 PM CST
A new rumor is saying that NVIDIA is readying a GK110-based GeForce Titan card to go toe-to-toe with the upcoming AMD HD 8000 series of GPUs. The new card would consist of a single GPU die and would have performance between the current GTX 680 and GTX 690, which is two GTX 680 dies on one card.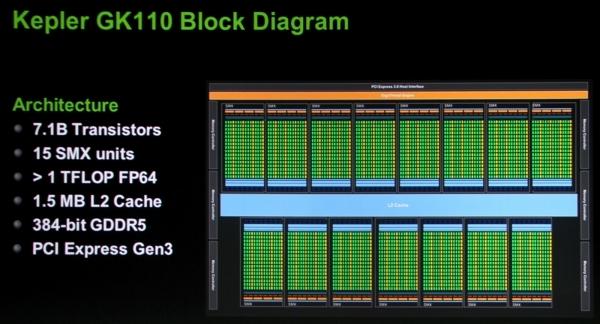 The move is likely to steal some thunder from AMD, who will try to take the performance crown back from NVIDIA. Several sources have said the card will materialize late next month with a price tag of $899. The name comes from the Titan supercomputer, which features 18,688 nodes utilizing NVIDIA's Tesla K20X GPU.
The GK110 die powers NVIDIA's enterprise Tesla video cards. The final die configuration will feature 2688 CUDA cores, an impressive number and over 1000 more than the GTX 680. Of course, this is all a rumor, though a lot of it does make sense. The card is likely utilizing chips that weren't quite up to par with the other Tesla chips as these cards have one SMX unit disabled.
Related Tags