NASA's Mars Reconnaissance Orbiter has found evidence that the 57 mile wide, 1.4 mile deep McLaughlin Crator once was filled with water that flowed from an underground source.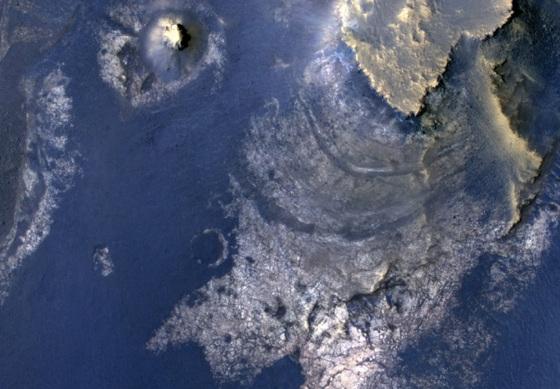 The evidence lies in the bottom of the crator where there are layered, flat rocks which contain carbonate and other minerals that form only in the presence of water. Small channels in the crator wall also resemble something you might find in a dried up lake bed here on Earth.
The findings were published in the latest edition of Nature Geoscience, and lend even more evidence that Mars could have once been a habitable planet. "This new report and others are continuing to reveal a more complex Mars than previously appreciated, with at least some areas more likely to reveal signs of ancient life than others," said Rich Zurek of NASA's Jet Propulsion Laboratory.
"A number of studies using CRISM data have shown rocks exhumed from the subsurface by meteor impact were altered early in Martian history, most likely by hydrothermal fluids," said Joseph Michalski, lead author of the paper. "These fluids trapped in the subsurface could have periodically breached the surface in deep basins such as McLaughlin Crater, possibly carrying clues to subsurface habitability."