OWC has announced their newest SSD in their venerable Mercury line, the OWC Mercury Viper SSD. This 3.5" behemoth sports impressive specifications of up to 600MB/s. This SSD bucks the current 2.5" trend by going with the 3.5" form factor, relegating it to desktop and server applications.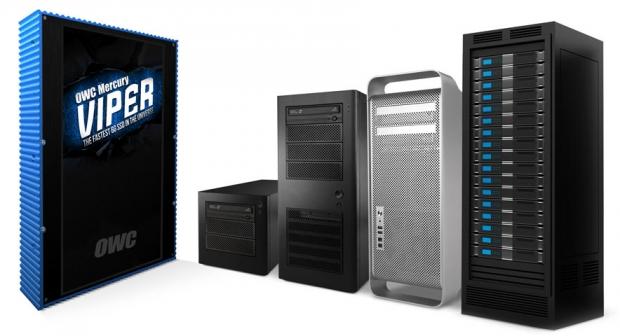 The truly impressive 600MB/s in sequential throughput will place this SSD firmly at the top of the SSD heap, with no other single SSD on the market able to match this top speed. 600MB/s is bumping up against the limits of the 6GB/s interface, and further numbers, such as random performance, will be released in the coming weeks. This large form factor also allows for huge capacity, with the range starting out at 240GB and topping out at a massive 2TB. This large capacity will be well suited to professional usage models.

OWC is also announcing the Jupiter mini-SAS DAS/SAN Scalable Storage Solution, which would be a great pairing with the above mentioned Mercury Viper. This series of enterprise class storage solutions continues OWCs expansion into the enterprise space. The series consist of JBOD and expansion racks, PCIe HBA cards and switches. The attraction of using the mini-SAS specification lies in its high performance, up to 48GB/s, and its relatively low cost when compared to competing fibre channel solutions.
Further expansion of this line of Jupiter products will continue in Q1 2013 with the launch of Jupiter towers, workgroup switches and RAID subsytems. OWC Jupiter switches extend the capabilities of SAS and harness the performance of DAS as a SAN configuration.
With the Jupiter 16-port Enterprise Switch sixteen non-blocking 24 Gb/s SAS wide ports provide zoning and extended cable length supports blazing speeds, even over extended distances, with extremely low latency. Jupiter has fourteen external SAS connectors for SAS initiators and targets that use passive cables, and two external active mini-SAS connectors for active or passive cables for maximum flexibility. The Jupiter 16-Port Enterprise Switch can be managed in two ways - in-band via the Jupiter Control Center Application or via embedded software for out-of-band management.