RumorTT: Xbox 720 to use Blu-ray discs for games, not play Blu-ray movies
Rumor: Microsoft to equip Xbox 720 with Blu-ray drive, wouldn't be able to play movies.
Published Wed, Jan 16 2013 6:53 PM CST
|
Updated Tue, Nov 3 2020 12:25 PM CST
There are many rumors surrounding the Xbox 720 and nothing can really be confirmed until Microsoft decides to spill the beans. Microsoft has been significantly tight-lipped about the next-gen Xbox, though rumors have tried to fill in the gaps, grasping at the smallest piece of information to try and figure out what will happen.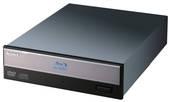 The latest rumor to join the crowd is that Microsoft is planning to equip the Xbox 720 with a Blu-ray drive, but limit the device so that it can only be used for games and not media playback. An interesting choice, considering the PlayStation 3 enjoyed numerous sales because of its ability to play Blu-ray discs.
On the otherhand, it makes sense for Microsoft to limit media playback, as they enjoy profits from streaming media content to the Xbox through their Xbox Live service. In the end, none of this rumor has been confirmed, but it's unlikely that Microsoft wouldn't use a Blu-ray drive as games continue to get bigger and bigger.
Related Tags