Interested Americans, historians, or really anybody who owns a smartphone will be able to live stream the Presidential Inauguration straight to their device, thanks to a new app released for iOS and Android. Released Monday morning, the official Inaugural 2013 app features photos, videos, and a livestream that will go live January 21 and stream footage of the ceremony.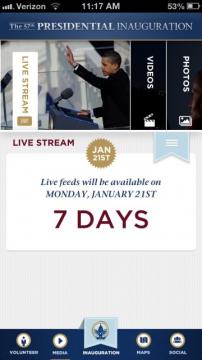 It features numerous other features, such as a map if you will be in DC for the inauguration, and information about volunteering opportunities for the Inaugural Committee's National Day of Service on January 19.
The app was produced by AT&T and is a free download for both iOS and Android devices.