The iPhone remains the number one desired device in the United States, with half of American's planning to buy a new device in the next 90 days planning on getting an iPhone. That's down from 71 percent in September 2012, while Samsung's numbers have jumped from 13 percent to 21 percent, respectively.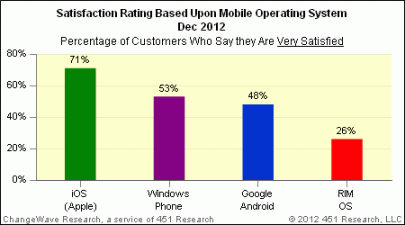 More interestingly, 71 percent of iOS customers say they are "Very Satisfied," while only 53 percent of Windows Phone customers say they are. However, both groups are ahead of Android, which only sees 48 percent very satisfied. RIM lags behind with only 26 percent of its base being very satisfied.
Because of this, Windows Phone could very well see some great growth in the coming year, as long as those satisfied customers are getting the word out. The data above comes from 451 Research. They surveyed 4,061 people, with 88 percent of those being US-based.