Jeffries analyst Peter Misek has released another research report, which continues to assert that the iPhone 5S will be coming June or July. New to the report is the assertion that mass production of the next iPhone will begin in March. If this is the case, I would expect to start seeing leaks soon, and definitely by March, as long as Apple continues to be as leaky as they have been in the past.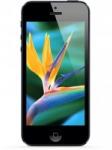 Our checks indicate that preliminary builds for the iPhone 5S will start in March for a launch in June/July. As word of the earlier production schedule starts to spread, we believe we could see a slight slowing of demand CQ1 in anticipation of the new product launch and Apple will likely start curtailing channel inventory.
Along with rumors and predictions for the iPhone 5S, Misek provides some insight into the possibility of a cheaper iPhone:
Similar to the iPad mini, we expect a concentrated low-cost iPhone rather than a "cheap" one. Likely specs: polycarbonite case with 4" non-Retina display and no LTE. We believe a new low-cost iPhone would increase Apple's share, decrease [gross margins], but have little impact on [earnings per share].
We'll see if any of this comes true in just a few short months, so keep your eyes peeled for all news iPhone 5S related.