Western Digital shows off new hybrid SSD at CES 2013, known as SSHD
WD shows off SSHD at CES 2013, a new hybrid solid state drive technology.

Published Thu, Jan 10 2013 11:34 PM CST
|
Updated Tue, Nov 3 2020 12:25 PM CST
CES 2013 - Western Digital have unveiled something quite interesting at CES this year, where they've shown off some new hybrid solid state technology known as SSHD. The new tech features the speed of a decent SSD, but the capacity that a mechanical HDD would feature.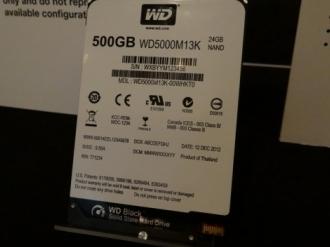 WD says that the solid state storage will continue to be much more expensive than traditional drives for the foreseeable future. This makes WD change gears and work on hybrid drives in the meantime, until we get to a point where pricing drops to more "competitive" levels in regards to flash storage. The demo that took place at CES saw the drive loading a bunch of applications to measure just how long it takes to load.
The Tech Report reported that it took 81 seconds to complete the task using a standard drive, and just 51 seconds on a normal SSD. On WD's hybrid SSHD, it took only 55 seconds - less than 10% longer than a normal SSD, but much faster than a traditional mechanical-based HDD. WD says that the incoming writes from the host system aren't stored on the NAND, with the caching system being controlled by the firmware and host-based software drivers.
WD will unleash the new drives under their Black line and will ship in the 2.5-inch form factor with a thickness of 7mm which will allow it to fit into thinner notebooks compared to other 2.5-inch, 9.5mm products. There's also a 5mm version that will be launched in the future, and we should expect these drives in 500GB and 1TB capacities when they launch.
Related Tags