CES 2013 - SMART Storage Systems introduced the new CloudSpeed Series of SSDs today which provide some great endurance with a very low price point, with enterprise class features at prices only slightly higher than consumer SSDs.
The two new SSDs are the CloudSpeed CS1000 and the CS1000E, which will both be available soon. The real story here is the shrink to 19nm MLC NAND and the high endurance that SMART Storage Systems has managed to pull from the NAND. In an effort to spread the word in a new and refreshing way, SMART Storage Systems CEO John Scaramuzzo formed the NAND Band.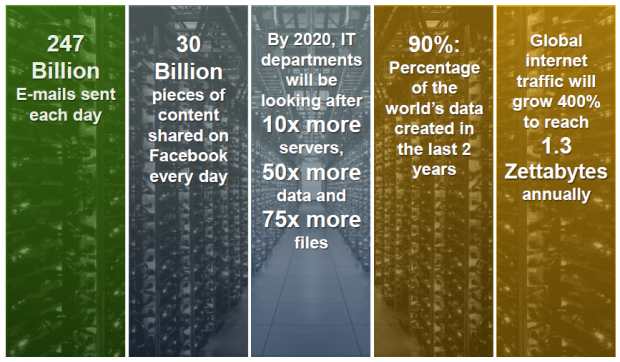 In order to understand the need for new more powerful storage solutions we must take into account the data explosion that is currently taking place. As we can see from the graph above there is a shocking amount of data produced every day, and the data is only multiplying as users are becoming increasing mobile.
Perhaps the most intriguing number on the chart is the fact that 90% of the world's data was created in the last two years. This points to an exponential increase in data production every year. The challenge is to provide solutions that can solve performance problems while also being able to stand up to the wear and tear.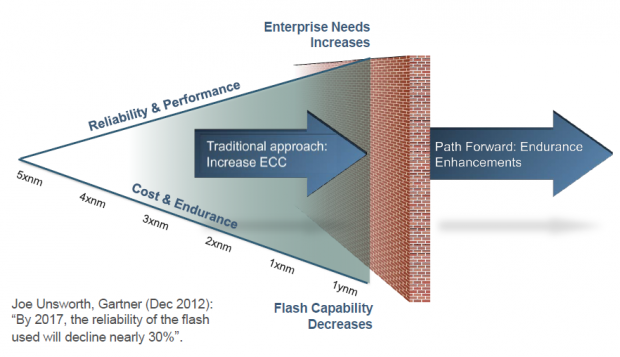 In a world where endurance equals money, adaptive flash management techniques provide tremendous increases in endurance while allowing manufacturers to provide low cost solutions to customers. As NAND shrinks it is becoming more affordable but also losing its endurance. This is an important key selling point for SMART Storage Systems because they have managed to wring the most endurance out of MLC NAND at the higher 2Xnm steppings (up to 5X). This inherent knowledge of flash, and how to extend its longevity and lifetime, gives them a lead in this department as the industry transitions to 19nm.
Many solutions try to utilize increased ECC to leverage more endurance from the NAND by correcting errors after they happen. SMART utilizes their Guardian Technology Platform to proactively dynamically adjust the flash as the device ages. In effect this adaptive flash management technique prevents errors before they occur, and then standard ECC is applied to deal with any errors that crop up over the life of the SSD.
The specifications are still good as well, with sustained performance of 500/450MB/s (read/write), and 80K/30K random IOPS. The most important specification is the incredible amount of punishment that these drives can withstand, with the Guardian Platform Technology bringing 3,070 TBW (TeraBytes Written) to the CloudSpeed 1000 and 7,680 TBW to the 1000E version.