Kickstarter stats for 2012: $274 million earned by projects, 18,000 campaigns funded
Kickstarter has an amazing 2012 supporting 18,000 campaigns, raising a total of $274 million.

Published Thu, Jan 10 2013 5:42 AM CST
|
Updated Tue, Nov 3 2020 12:25 PM CST
I'm sure if you went back to this time last year and told someone that some crowd-funded site like Kickstarter would be cranking through $274 million by the end of the year, they'd laugh at you, well, not anymore.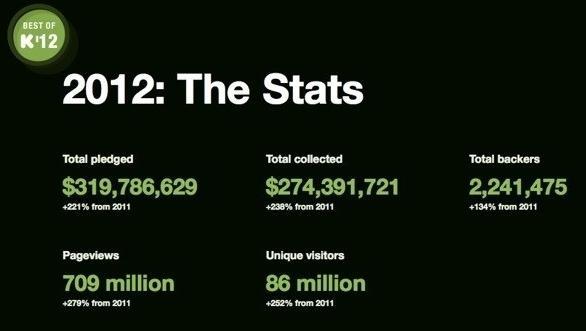 Kickstarter's 2012 stats show that total pledges amounted to $319,786,629 with a total collected amount hitting $274,391,721. Total backers sat at 2,241,475 - page views and unique visitors were also mammoth with 709 million and 86 million respectively. The $319 million number is huge as its a 221% increase year-over-year compared to 2011.
The $274 million total collected amount is a huge 238% increase year-over-year, total backers are up 134%, and the pageviews and unique visitors are up 279% and 252% respectively. Kickstarter is really kicking some serious ass right now.
Related Tags