A look at Thermaltake's new air and water cooling products at CES 2013
New air and water cooling units discovered at Tt hotel suite.

Published Wed, Jan 9 2013 3:34 AM CST
|
Updated Tue, Nov 3 2020 12:25 PM CST
CES 2013 - Thermaltake is all about trying new things in cooling, and just letting the ball land where it may, and this year is no different. Where last year we were looking at the Frio Extreme, one of Tt's largest air coolers, there must have been some backlash to inspire the new Nic series of air cooling. If these four new air coolers weren't enough, the Water 2.0 series has been revised, and now Thermaltake has gone to version 3.0.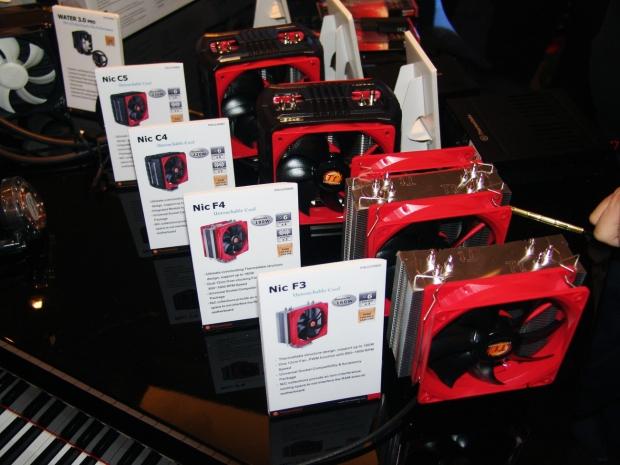 With the new Nic series of coolers, the Nic stands for non-interference cooler, the main goal here is to get as much cooling potential as possible to allow users a great TDP range of coolers that do not impede on the DIMM slots, nor do they run into any of the power delivery heat sinks found on most motherboards today.
The lineup consists of the F3, F4, C4, and C5, with TDP ratings of 180W, 200W, 220W and 230W respectively. Also in this line, you can opt for something smaller and cooled with a single 120mm fan, or go for the gusto with coolers that have shrouds to contain the air flow, or go with a pair of 120mm fans to allow you the best performance of both flavors of the Nic series.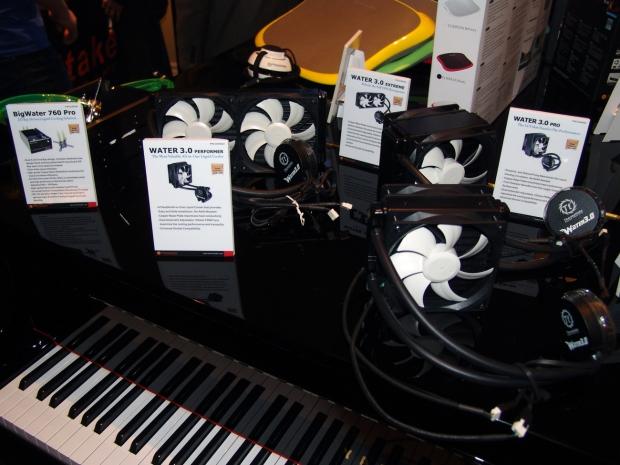 There were also three new entries to the AIO scene with the Water 3.0 series of coolers. There wasn't much talk about the actual specifications and what made the 3.0 better, but if history is any clue as to what is going on, most likely there have been changes made the head unit and the pump. As with most revisions, it is likely that the power draw has been reduced and the flow increased to allow for better performance with the same thin 120mm radiator, thicker single radiator, and even the dual 120mm version.
With the results of the Water 2.0 surpassing most air coolers out there, I can't wait to test one of these and see just how well the improvements to the Water 3.0 series benefit users, and hopefully they can gain some more headway against even custom water cooling, I guess we will have to wait and see.
Related Tags