A slick new keyboard is soon to be on the way from CoolerMaster
Expect a very cool new keyboard from CoolerMaster in the near future!
Published
1 minute & 28 seconds read time
CES 2013 - For those that weren't aware, a few weeks ago I was given the golden unicorn of keyboard from CoolerMaster, the Trigger with Cherry MX Green switches, and to keep my response short without giving away too much of the review that is soon to hit TweakTown's front page, let's just say I am very impressed and even so much that I have now given away the Matias Tactile Pro 3 that used to be what I would say is the best keyboard I have had, until I got the Trigger that is!
So as I was about to leave the room housing most of the peripherals and a couple of very well modded HAF XB, I caught what most would think is a keyboard that is a bit odd looking. This new keyboard, I was told, will also be offering a green switch version is the new Stealth mechanical keyboard. While the design isn't finalized, the legends on the key caps have been moved to the front edge of the keys. This does two things. One is that you will never wear off the numbers, letters, or words on the keys, and secondly, it will leave your friends a bit dumbfounded as they take a quick glance at this board and assume there are no legends on the keys at all. There were also talks of using double shot moldings on these key caps, or possibly laser etching caps and backing this board with LEDs to allow the much smaller legends on the caps to be much more visible to those that desire to see their keys as they type.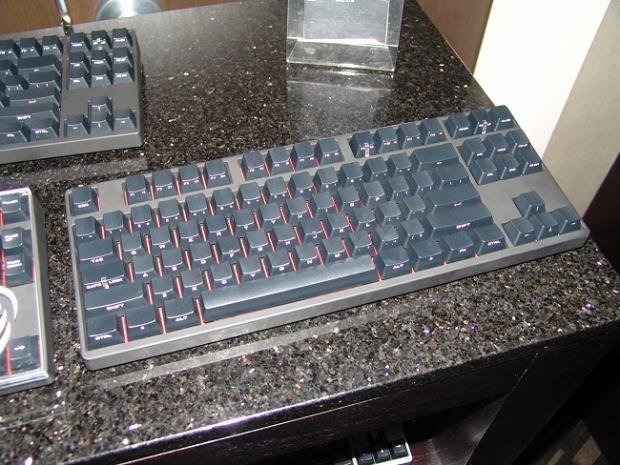 I was told we could expect to see the Stealth (based on a Filco) very soon, barring any issues with the supply of the very hard to obtain green switches, and I for one am very excited to give this ten keyless keyboard some time on my desk so I can express my thoughts about this exciting, yet slightly irregular concept. I know that the keyboard elite are also drooling, and as soon as I get my hands on one, I will be bringing this to the forefront as soon as possible!
Related Tags