Lenovo announces K900 smartphone at CES 2013, will be available in China in April
Lenovo debuts its flagship smartphone alongside a full smartphone portfolio.
Published Wed, Jan 9 2013 5:27 AM CST
|
Updated Tue, Nov 3 2020 12:25 PM CST
CES 2013 - Lenovo's new K900, just announced today, is the company's new flagship device and will be coming to China in April, and subsequently to other markets. It features a 5.5-inch IPS panel pumping out full HD resolution and is powered by an Intel Atom processor.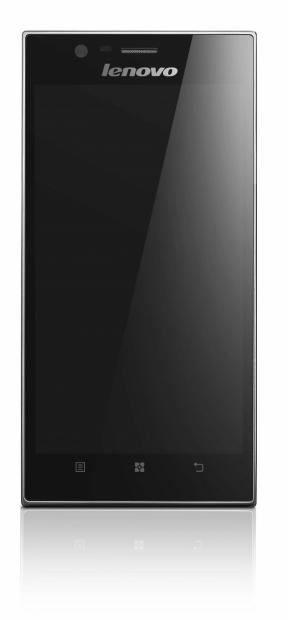 "With the K900, our team has broken down the key functions of the smartphone and redesigned them from the ground up," said Liu Jun, president, Mobile Internet Digital Home, and senior vice president, Lenovo. "Rather than focus on specifications that look good on a datasheet, we've zeroed in on what consumers want and proved that for smartphone users, top performance doesn't require a thick profile. The K900 is a game-changer that looks as good as it performs."
The thing weighs in at 162 grams, or 5.7 ounces, and stacks up at a mere 6.9mm. The camera is a 13MP Sony Exmor BSI sensor on the rear. Pricing for the device will be announced closer to the April launch. Alongside of this, Lenovo has announced its entire smartphone portfolio:
S890, Optimized for Entertainment

Young consumers of the "digital native" generation have high demands for their digital products. Not only do devices need to offer the latest technology and strong performance, but they must look good as well. The S890 excels on all these fronts. The phone sports a 5-inch 960x540 qHD screen, for crisper images and more viewing area to share videos and hi-definition photos with friends. An 8MP auto-flash camera, complemented by Lenovo super camera software, takes photos in low light and allows photo in video and complex photo-editing. All of these functions are packed into a super-slim (9.3mm, .36-inch) and lightweight (176g, 6.2 ounces) package, sporting a uniquely elegant "loop" design that makes the product feel thinner and sexier.

S720, Multimedia Workhorse

Young urbanites are constantly using their smartphones to view, edit and share multimedia content and the IdeaPhone S720 is tailor-made for these consumers. In addition to key multimedia enhancements like built-in Dolby Digital Plus and Super Camera software, the S720 optimizes the value of its configuration with a dual-core MTK CPU for enhanced performance and a 2000mAh battery to ensure the phone can easily handle greater power demands. The 4.5-inch 960x540 IPS display ensures that photos taken with the 8MP front camera or the 1MP rear camera can be viewed easily from wider angles, while dual SIM functionality provides easy switching from home to office networks for sharing. All of this is packed into a slim, 9.9mm (.39-inch) package with a unique "Loop" design, and comes in three color options so you will always look stylish while enjoying a full multimedia experience.

P770, Professional Business Device

Businesspeople demand more from their smartphones: more talk time, more security, more reliability and more options. The IdeaPhone P770 is a perfect complement for today's always-connected, frequently traveling global executive. Sporting a 3500mAh battery with enhanced power management software, the P770 delivers up to 30 hours talk time between charges, while a unique, "genuine battery detection" function ensures P770 users get the most from their phone. In fact, with USB on-the-go, the P770 can even serve as a charger for other devices, while easily sharing files and data secured by native anti-virus software. Dual SIM capabilities allow you to move seamlessly across networks wherever your job may take you.

A800, All-Round Entry-Level Smartphone

The A800 strikes a strong balance between performance and price, granting users access to a range of specs that have normally been reserved for much more expensive phones. With a dual core, 1.2GHz CPU and dual SIM slots for switching between data plans on the go, the A800 is a solid performer for work and play. A 4.5-inch FWVGA display, accompanied by a 2000mAh battery, ensures the A800's performance stands up for photo sharing, games and web-browsing. Best of all, the A800 offers all of this in an affordable package, making it an ideal choice for first-time smartphone users or those seeking an all-round performer on a budget.

A690, Balance and Value

The IdeaPhoneA690 challenges preconceptions about what can be offered with an entry-level smartphone. The phone is the first in its class to break the 1GHz barrier, offering speed and responsiveness previously unheard of for the most affordable phones. With a 4.0-inch 800X480 WVGA screen, which also surpasses the competition, the A690 delivers an enhanced viewing experience with sharper resolution. The ergonomically designed A690 feels great in the hand and also offers dual SIM capability so users can select the most cost-effective data plan for their changing needs.
When I checked out some of Lenovo's smartphone offerings, I was really impressed by all of them and there wasn't a single device that I didn't like. Of course, I liked some more than others, but all-in-all, Lenovo has quite the portfolio of smartphones.
Related Tags