NVIDIA plays catch up on GPU rebadging, wave hello to the GeForce GT 730M and GeForce 710M parts
NVIDIA outs new 700-Series mobile parts, rebadged 600-Series parts are now here.

Published Wed, Jan 9 2013 2:36 AM CST
|
Updated Tue, Nov 3 2020 12:25 PM CST
I'm not a fan of rebadging GPUs, as you can see here with our AMD Radeon HD 8000M Series news, but it looks like NVIDIA have also pulled out their huge green rubber rebadging stamp, too. Le sigh.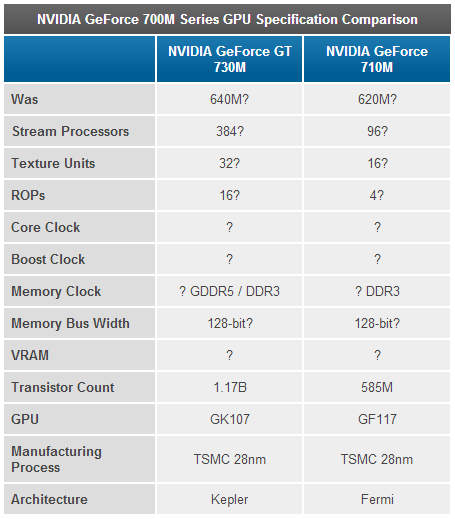 NVIDIA are pushing new parts out to OEMs, with two being unveiled thus far: The GeForce GT 730M and GeForce 710M, there aren't many details on them at all, but AnandTech have used their magic powers to try and figure out what we should expect, as the picture above shows.
The 730M looks like a GK107-like rebadge, which we have now as the 640M, which supports Kepler-based tech such as TXAA, PCIe 3.0 and DisplayPort 1.2. This could end up being a 650M rebadge, but we won't know for a little while yet. The other part listed is the GeForce 710M which should be a GF117 rebadge, and should end up being a rehashed 620M. This chip doesn't support Kepler features such as PCIe 3.0, TXAA or resolutions above 2560x1600.
NVIDIA are now listing something called the "GeForce Performance Score" which is used to define the performance of a part relative to Intel's HD4000 iGPU. Using this as a benchmark, the 730M and 710M are 4.8x and 3.0x respectively. We should here more in the coming weeks and months, folks.
Related Tags