Australia's heat wave that just finished had meteorologists adding two new colors to the temperature charts, it was that hot
Heatwaves in Australia push meteorologists to add two new colors to the temperature charts.

Published Tue, Jan 8 2013 6:40 PM CST
|
Updated Tue, Nov 3 2020 12:25 PM CST
Trust me - I've been living through it, where I'm based it was hitting 47C which is 116F. The days surrounding that were low-to-mid 40s, too. It looks like the Bureau of Meteorology have had to introduce two new colors into their temperature charts to represent the huge heat.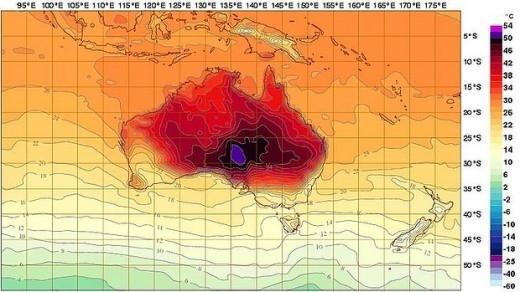 The two new colors are purple and pink, and have been added to various maps and visualizations to extend their range to 54C, with the previous maximum being 50C. Australia's all-time record was 50.7C which was set in my home state of South Australia at the Oodnadatta Airport back in 1960.
The first week of 2013 has set records across the country, as well as setting a new national average maximum of 40.33C.
Related Tags