Qualcomm's CES unveilings include Snapdragon 800 and 600, provides up to 2.3GHz quad-core, 4K video - due mid-2013
Qualcomm just outed their Snapdragon 800 and 600 - sports up to 2.3GHz of quad-core processing power.

Published Mon, Jan 7 2013 10:26 PM CST
|
Updated Tue, Nov 3 2020 12:25 PM CST
CES 2013 - Alright, Qualcomm - settle down, you're blowing me away here, ok? Most people expected Qualcomm to release the Snapdragon S5 at CES, but it looks like that won't be happening.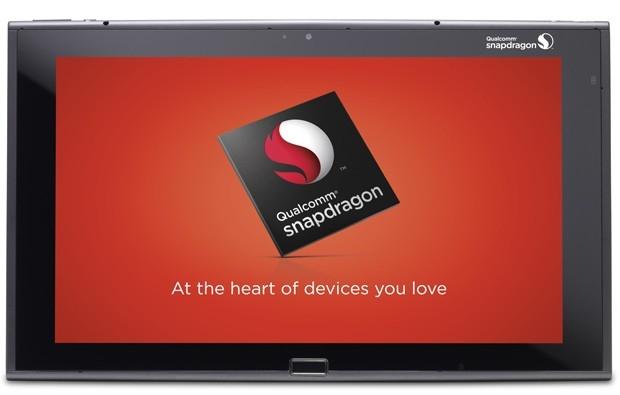 Don't be upset, though, because we still have some new chips to get all hot and bothered over - with the new SoCs arriving as the Snapdragon 600 and 800. These new SoCs will be baked into future high-end smart devices, such as Smart TVs, smartphones and tablets. We should expect the new Snapdragon 600 and 800 SoCs in the next three-to-six months, with both of the new chips sporting some pretty incredible specifications.
The Snapdragon 800 is claiming that it is 75% faster than the Snapdragon S4 Pro, which is quite the claim. If we do see these types of performance gains, it'll be thanks to a shift to 28nm HPm (High Performance for mobile) fabrication process, an upgraded Hexagon V5 digital signal processor, a shift over to 800MHz LPDDR3 memory which should compete against the PC-like bandwidth that Samsung will enjoy with Exynos 5, an all-new Krait 400 architecture which will offer clock speeds ramping up to 2.3GHz and an all-new Adreno 330 GPU that will sport double the computer power.
Better yet - this new SoC will be 4K-capable at 40fps, will push out 2K video (2560x2048) at 60fps and also pump out 7.1-channel DTS-HD and DD Plus audio standards. Ok, I'm sweating. The 800 should arrive in the middle of the year, and next up we have the Snapdragon 600.
The new 600 SoC from Qualcomm will sport a higher 1.9GHz max clock speed, a "speed enhanced" Adreno 320 GPU and LPDDR3 memory. Qualcomm is pitting the Snapdragon 600 against the likes of Intel's Clover Trail platform and NVIDIA's just-announced Tegra 4 SoC.
The new Snapdragon 800 and 600 SoCs will sport a slew of wireless connectivity such as 150Mb/s LTE with Advanced Carrier Aggregation, 802.11ac Wi-Fi and Miracast HD 1080p.
It looks like the next, next-gen of smart devices are going to be incredibly quick and incredibly efficient. Next-gen consoles have their work cut out for them between NVIDIA's Tegra 4 and Project Shield along with this new announcement from Qualcomm.
Related Tags