Samsung CES 2013 Press Conference - live!
Live coverage of Samsung's CES 2013 Press Conference right here!

Published Mon, Jan 7 2013 4:01 PM CST
|
Updated Tue, Nov 3 2020 12:25 PM CST
CES 2013 - Samsung are about to start their CES 2013 Press Conference in a matter of minutes and we're here to bring it all to you live. What could they unveil? A new lineup of Ultrabooks? Some new Smart TVs? More of a tease of their new Ultra HD 4K TVs? Something completely new? We'll find out soon enough!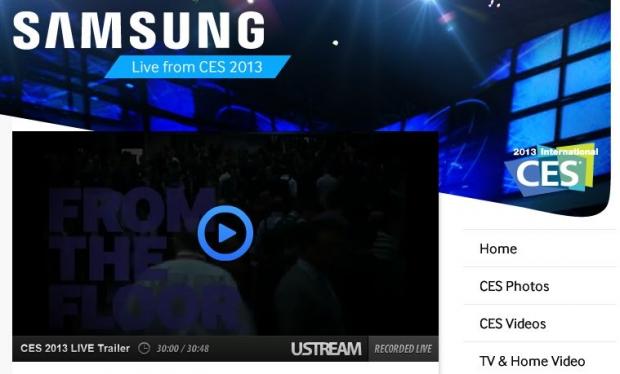 13:47 US PST: And that's it! A bunch of announcements and unveilings from Samsung - what did you like most?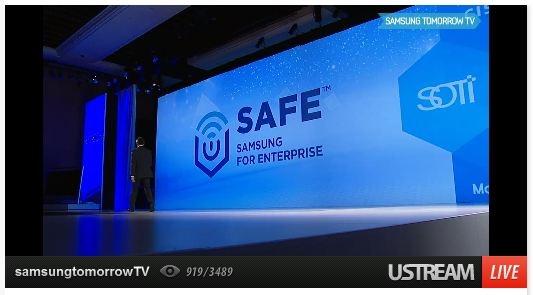 13:46 US PST: SAFE - Samsung for Enterprise is making it safer for a bring-your-own-device to work world. On-device encryption is included, keeping your enterprise safe. Samsung are going to continue pushing into this area.
13:44 US PST: Samsung's Series 7 Touch PC monitor sports a 60-degree tilt - perfect for your desktop. A slim bezel is at play, a Samsung default by now.
13:44 US PST: More than half of Samsung's PC line is touch-enabled, reiterating their Windows 8 commitment.
13:43 US PST: Samsung Chronos unveiled - 15.6-inch Full HD panel with a quad-core processor. Dolby Surround Sound audio is included. 20.9mm thick - not too shabby at all. 11-hour battery life.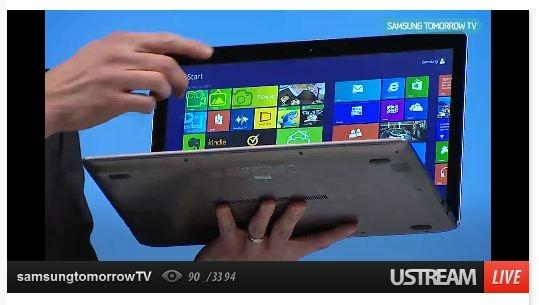 Samsung Series 7 Ultra uses Windows 8 with touch. 8-hour battery life, 17mm thin, 13.3-inch Full HD panel.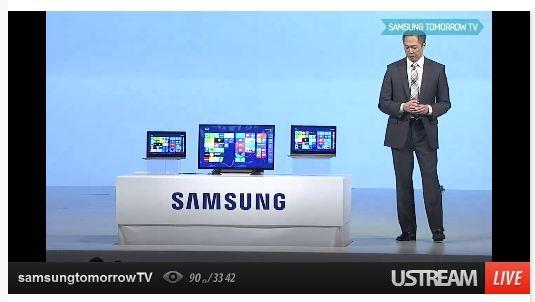 13:41 US PST: Samsung are now bringing the 'wow' back to PC with multiple innovations and products. Samsung are improving their Series 9 Ultrabook, with a Full HD panel being introduced.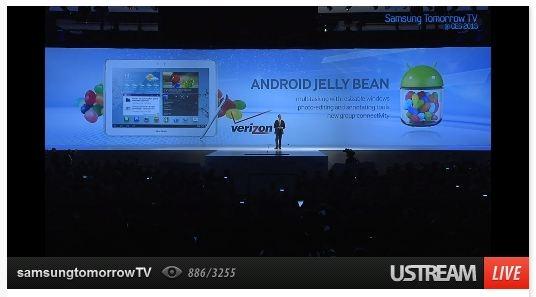 13:39 US PST: Now Samsung are announcing a 4G-powered of the Galaxy Note 10.1 tablet will be coming to Verizon this month - finally!
13:39 US PST: Android is now being talked about - the Galaxy S III is the world's best selling smartphone with 30 million sold to-date. The tablet world has also seen success from Samsung with the S-Pen making waves in the Galaxy Note 10.1 tablet.
13:38 US PST: Samsung are pushing 3D cameras to compliment their 3D TVs, too.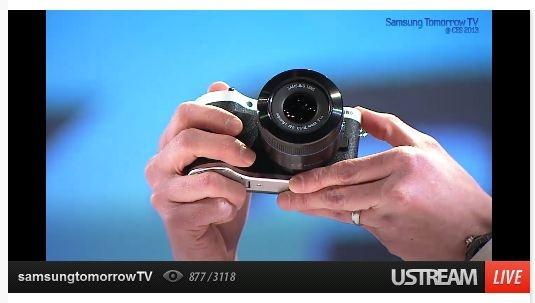 13:38 US PST: Samung's NX300 gets unveiled - which sports some new features. It sports a 3.31-inch AMOLED Tilt display - for high and low angle shots. A first for the NX series from Samsung.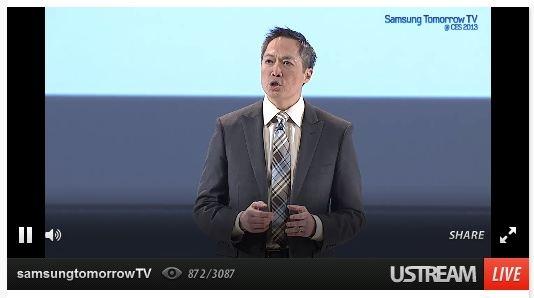 13:38 US PST: Michael Abary - Senior Vice President of Samsung Electronics America - now we're onto a "new dimension in photography". Smart Camera 2.0 allows sharing with one button.
13:34 US PST: WA50F washing machine has been unveiled - looks gorgeous - yes, a washing machine that looks gorgeous.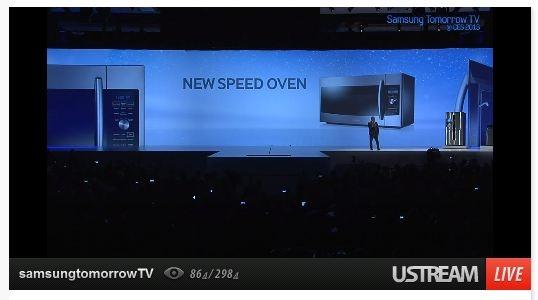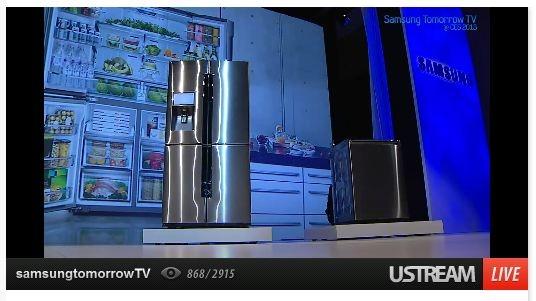 13:33 US PST: Let's talk refrigerators - Samsung's T9000 - sports 32 cubic feet of room. Apps are on the TV, with EverNote for example which lets you share lists and notes with family and friends. The LCD shows off a calendar, or connect it to your smartphone as a baby monitor - wow!!
13:31 US PST: Refrigerator's are now getting smart - about delivering convenience to your life. Oven's, too! The Flex Duo Oven can cook two meals at two different temperatures at the same time - now that's a revolution!
13:30 US PST: The new Ultra HD 4K TV ramps up to 85 inches - pixel density on 4K shows incredible detail on images. An array of speakers are built into the frame, sporting 120W of sounds which is quite the feat considering how thin the TV is. HD content can be pushed up to UHD resolution.
110 inches is also at the Samsung booth - how is that, I want three of them - SHUT UP AND TAKE MY MONEY!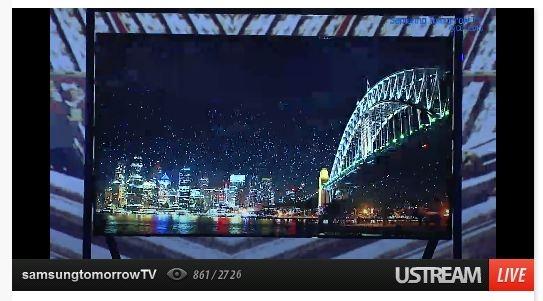 13:29 US PST: Samsung are now showing the next frontier of TVs.. the Ultra HD. Huge unveiling, curtains are flying everywhere and lights are bursting through the entire room - here we have it!
13:28 US PST: OLED TVs are now being talked about, where they've added new features to their OLED range - multi-view on 3D content allows people to watch two separate programs, with their 3D glasses featuring separate earbuds.
1000 times faster than existing TVs... wow.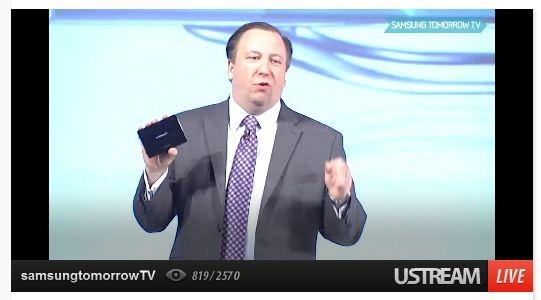 13:26 US PST: 2013 Evolution Kit has been shown off. New features "spring to life" on older TVs - sporting a quad-core processor, S Recommendation and more. An incredible way of breathing life into your now "old" twelve-month fresh TV.
13:26 US PST: Multi-cultural content is growing in 2013. A huge push for this year and something Samsung will push.
13:21 US PST: Executive Vice President of Samsung Electronics America Joe Stinziano takes the stage.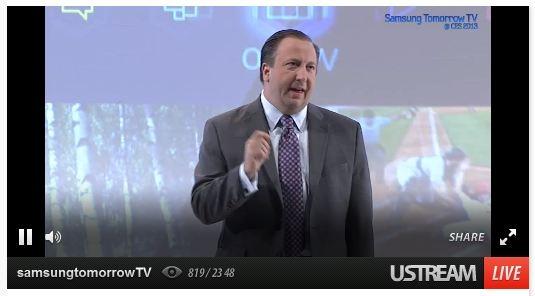 13:20 US PST: Live TV to video-on-demand, to pictures and music or social networks, can all be accessed through your remote control or voice control. Moving through panels are as easy as moving between "pages on your tablet". It looks like Samsung TVs are really being pushed - which is great to see.
13:19 US PST: Options like "select the first one" will do as it sounds, select the first option S Recommendation displays - which makes voice control quite easy. Samsung haven't stopped there - and have provided a completely redesigned user interface. Now sports five panels.
13:18 US PST: Samsung have added in some new features - the F8000 sports a quad-core processor, which is huge! Twice the speed of the dual-core based 2012 model. The extra grunt allows faster multi-tasking, suggest what you like, new content and gives you the power to manage your entire entertainment world. S Recommendation with Voice Interaction is here!
Request films that feature your favorite actor - understands full sentences, and even replies - a voice assistant in your TV! Incredible! Where are you, Apple?!
13:16 US PST: Samsung's great image quality will improve over 2013 with HEVC support - which Samsung call "intelligent viewing".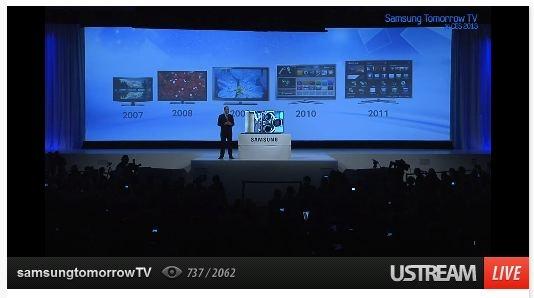 13:15 US PST: Samsung's new LED F8000 screen has a thinner profile, bezel under 0.25-inch. The F8000 will be available in sizes all the way up to 75 inches.
13:14 US PST: Samsung LED F8000 has been unveiled - oh yeah!
13:14 US PST: Samsung isn't also just about connectivity, flexibility is also a key part of their future. Bringing their learnings from how consumers search and share on their mobile devices to their 2013 TVs.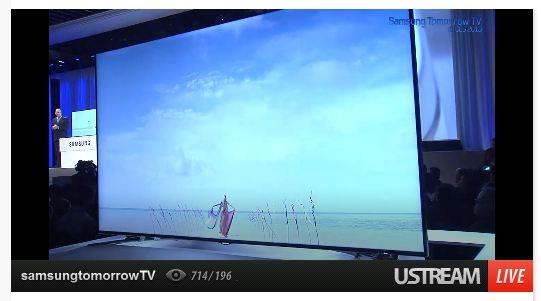 13:13 US PST: Samsung talk about consumers multi-tasking while watching TV - yes, that's me - being capable of using your mobile device as a remote control. Mirror live content on your Samsung tablet, so you don't miss a play - or if you're playing EA's Monopoly with your family - Samsung Smart TV's provide "more interaction with more devices than any other TV platform on the market".
13:11 US PST: Samsung talks about voice and gesture control on their Smart TV, and bringing their S-Pen to the smartphone and ATIV PC. Finally, the bring-your-own-device to work trend is huge right now, with mobile devices being the central hub for peoples' lives. By 2014, it's believed this will become the norm - bringing your own device to work.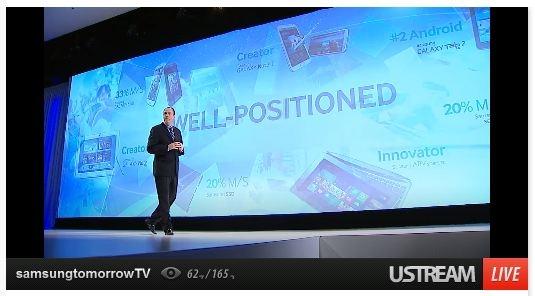 13:09 US PST: 66 million connected devices in Q3 alone shipped from Samsung - which pushes them 40% ahead of their closest competitor.
13:08 US PST: And we're off!
Related Tags