Android stats: 40% of all Android devices are running Android 4.0 ICS or higher
Android 4.0 Ice Cream Sandwich or higher is featured on more than 40% of Android devices.

Published Sat, Jan 5 2013 9:34 PM CST
|
Updated Tue, Nov 3 2020 12:25 PM CST
Android adoption continues to expand at rapid rates, but as quick as it's expanding with new devices sporting Android 4.1 Jelly Bean, or older devices coming with Android 4.0 Ice Cream Sandwich, older revisions of Android are seeing declines in market share.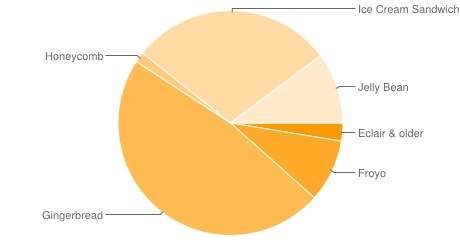 It wasn't too long ago that Android 2.3 Gingerbread enjoyed more than 50% of the Android market share on devices, but that has now shrunk to 47.3%. Android 4.1 has scooped up 9% of the market share, with Android 4.2.1 seeing just 1.2%. Gingerbread's share of the Android OS market is expected to decline in the future as more devices ship with updated versions of the Android OS. Android 4.0 Ice Cream Sandwich (and higher) versions of Android now represent over 40% of the entire Android OS market share.
Google, and their partners like Samsung, LG and more will continue to push out Jelly Bean-based devices which will only see Jelly Bean's numbers increase. As consumers upgrade to these devices, Gingerbread's market share will continue to drop - which is great, as it's a very old OS. Android has come a very long way since Gingerbread, and it looks like users are noticing this, and upgrading.
The data comes from the number of Android devices accessing the Google Play store within a 14-day period which ended on January 3. Keep in mind that these numbers could go up or down a few percentage points as not everyone accesses, or uses the Google Play store on their Android devices.
Related Tags