With the Kindle Fire being based on Android, it can get the same viruses that are now beginning to creep into mobile devices world wide. Lookout Mobile, a company that builds anti-virus apps for Android just released its first app for Amazon's flagship tablet.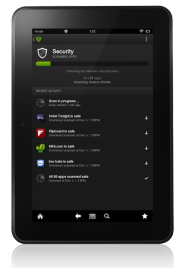 The app is the same as the standard Android version, but being that the Amazon does not allow the Google Play Store on the Kindle Fire, the company had to submit the app for approval before it became available in the Amazon App Store.
Once installed, the app will alert you to hidden viruses, and track the location of your phone remotely in the event your phone gets stolen, lost or otherwise indisposed. The app will also let you activate a "Scream" ringtone to help you locate the lost or stolen device.