Microsoft posts countdown to E3, rumor starts that next-gen Xbox will be announced
Major Nelson posts timer to E3 with text "And it's on..."; sparks rumor next-gen Xbox will be at E3.
Published
0 minutes & 51 seconds read time
Rumors have a way of starting using data that could mean next to nothing. For instance, a rumor is now saying that the countdown to E3 posted by Microsoft today is proof positive that they will be announcing the next Xbox at E3 in June. While there have been rumors saying this is the case, this timer does not have any shred of definite proof.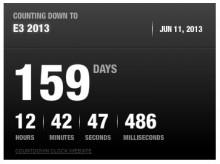 While it is pretty likely that the next Xbox will make its first appearance at E3 this year in June, a simple timer does not give any hard evidence. The text "And it's on..." only adds fuel to the fire, but still does not prove that this is Microsoft's plan. While it certainly is time for Microsoft to update the Xbox 360, they will likely try to milk it for every dollar its worth.
It's also important to consider that Microsoft still has some major Xbox 360 game releases to get through, including Gears of War Judgement in March. Would Microsoft really release the next-gen console so quickly after a major game release? It's hard to say. If the console includes backwards compatibility, then it is possible.
With that said, it's completely possible that the Xbox successor will launch at E3 this year, however, it's completely possible that it won't.
Related Tags