Zynga flicks the switch on PetVille, and 10 other games in order to save money
Zynga puts down PetVille and 10 other games, 2013 isn't looking good for the company.

Published Sun, Dec 30 2012 11:35 PM CST
|
Updated Tue, Nov 3 2020 12:25 PM CST
Most of my Facebook feed used to be filled with game requests, until I began blocking all game requests - I'm looking at you, Nanna. But, it looks like Zynga CEO Mark Pincus has started his cost-reduction plan which was announced last month.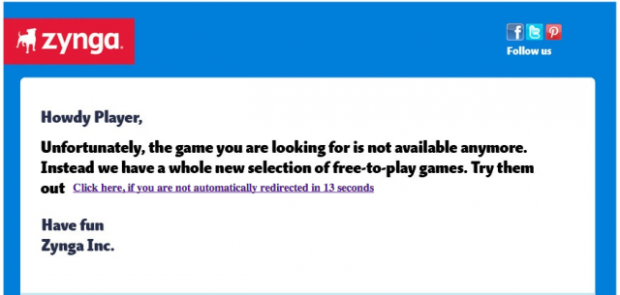 Zynga has either shut down or pulled from app stores, stopped accepting new players to eleven games with some of those games turning off today. Zynga will reallocate resources from the games gone or cut down to the titles that are actually doing well, or put them into creating new games.
The company have had a very rocky year after bursting out of the gate to be a huge success, where their share price is down from their IPO launch of $10 to just $2.33 now. Zynga have announced huge cost-cutting measure which will see over 100 employees cut, offices shutting their doors, ceasing to renew deals with contractors, shutting down 13 games, as well as reducing investments into The Sims-style game, The Ville.
PetVille and Mafia Wars 2 shut down today, with a bunch of other games pulled too:
PetVille - Shut down December 30th
Mafia Wars 2 - Shut down December 30th
FishVille - Shut down December 5th
Vampire Wars - Shut down December 5th
Treasure Isle - Shut down December 5th
Indiana Jones Adventure World - Closed to new players, shuts down January 14th
Mafia Wars Shakedown - Pulled from app stores
Forestville - Pulled from app stores
Montopia - Shut down December 21st
Mojitomo - Pulled from app stores
Word Scramble Challenge - Pulled from app stores
Related Tags