Pro-Tip Friday: Nintendo recommends updating Wii U before wrapping it for under the tree
Nintendo Pro-Tip: Update the Wii U before you give it as a gift.
Published Fri, Dec 21 2012 5:29 PM CST
|
Updated Tue, Nov 3 2020 12:25 PM CST
Nintendo has tweeted out a good piece of advice for parents purchasing the Wii U for their kids this Christmas. The tweet suggests that anyone giving a Wii U should open it up and download the 5GB update before wrapping it up and placing under the tree. While it's probably more important to do this for little kids, the advice holds true for anyone giving it to a non-tech person.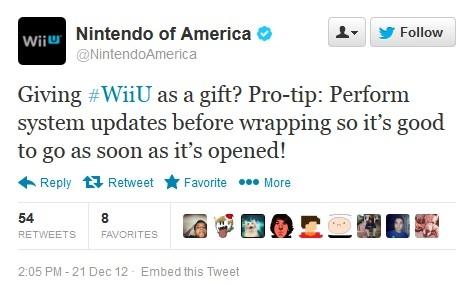 Keep in mind that if power is lost during the update, the console could become bricked. If you're currently in a storm, you might not want to do the update right then. I'm not so sure that this should be called a pro-tip, though. As comments on Neogaf suggest, the real pro-tip would be to have manufacturing install the update before shipping them out.
That said, if you're getting a Wii U for a kid, you should probably do this so they can get to playing as soon as they open it.
Edit: Reader Ryan points out that the console will only brick if you lose power during the actual update portion, not the downloading part.
Related Tags