Acer debuts new Chromebook for $299, comes with more memory, battery life, and storage
Acer debuts a new $299 Chromebook, similar to its $199 model but with upgraded specs.
Published Wed, Dec 12 2012 5:28 PM CST
|
Updated Tue, Nov 3 2020 12:25 PM CST
Chromebooks appear to be taking off as of late, with more and more manufacturers debuting new models. Acer is no stranger to the Chromebook and has debuted a new model today that is based upon the model that they released last month for $199. The new model comes with beefier specs and a larger price tag.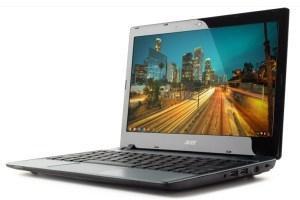 The new model comes in at $299, and while not currently available on Google Play, it is showing on Acer's website. The outside looks identical to the $199 model, but the similarities are only skin-deep. On the inside, it features 4GB of RAM, a useful addition if you like to open lots of browser tabs like I do.
It still sports the same 1.1GHz Celeron processor, but comes with a larger battery. Battery life is expected to be over 6 hours on a single charge--not bad. The hard drive has also been upgrade and now sports 500GB of capacity, as opposed to the 320GB included in the cheaper version.
Related Tags