The Nintendo Wii U has been out for a few weeks now, and there have been some more interesting tests run on Nintendo's next-gen console. With no increase in actual processing power over the current-gen Xbox 360 and PlayStation 3, where can we see some improvements? Efficiency.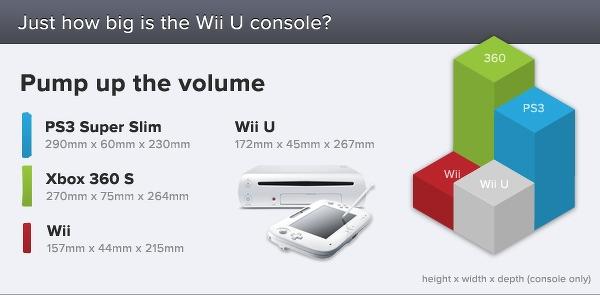 Performance per watt numbers show Nintendo have the lead, where the Wii U offers some of the same graphical capabilities and gameplay experiences that the current Xbox 360 and PS3 offer, but at much lower power consumption numbers.
The Wii U is slimmer than the just-released PlayStation "Super Slim" model, but offers the same performance (and sometimes better) in terms of resolution support, and lower power consumption numbers by a decent amount. During the FIFA 13 Demo, the Wii U only consumes 32w of power compared to the Xbox 360S and PS3 Super Slim with 76.5w and 70w, respectively.
For front-end menus, we have 32w, 67w and 66w for the Wii U, Xbox 360S and PS3 Super Slim, respectively. There was also a Netflix HD test, which saw the Nintendo Wii U, Xbox 360S and PS3 Super Slim models using 29w, 65w, and 62.5w, respectively.
As you can see, the Nintendo Wii U is the clear winner here.
Nintendo has achieved this by building their architecture from the ground up, versus the ageing architecture in the current-gen Xbox 360 and PS3. The Wii U's CPU only runs at 1.24GHz and uses much less transistors than the competition. Raw computational power may be down, but the upside is that Nintendo have nice features like out-of-order execution, which at least tries to make up for the lack of dual hardware threads and the lower clock speed.
Another big part of this is the Wii U's Radeon GPU department - which sports fast eDRAM, and bakes it directly into the GPU core which would definitely have some benefits. The only issue here is that details on the GPU architecture are scarce, making it hard to know what is really cranking along in that GPU.