VR-Zone China got their hands on what appears to be a legitimate leaked road map detailing Intel's rumored lower power Ivy Bridge CPUs. The new processors are expected to come in the first quarter of 2013, so we may even see a showing of the new processors at Intel's CES booth or press conference.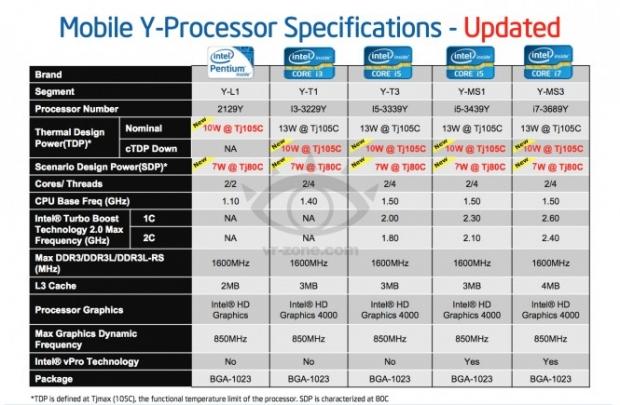 Let's start with the bottom chip, as seen above. It will come with the Pentium branding and will feature a max TDP of 10W. Sporting 2 cores and 2 threads, the model will not make use of Turbo Boost or HyperThreading and it only features 2MB of L3 cache. The included graphics are just "Intel HD Graphics."
Moving up the line, they have one Core i3 offering in the form of the i3-3229Y, which is a 13W TDP part. It will feature HyperThreading and will come in a dual-core model clocked at 1.4GHz. One of the two i5 offerings, the i5-3339Y, is a dual-core, HyperThreading part that comes clocked at 1.5GHz, with a max Turbo Boost of 2GHz.
The i5-3439Y is similar, with the only difference being a higher max Turbo Speed of 2.3GHz. Finally, the i7 model, i7-3669Y, will start at the same 1.5GHz, but will Turbo all the way to 2.6GHz, all while remaining within that 13W TDP envelope. It will also come with 4MB of L3 cache.
All of the parts feature a 7W Scenario Design Power, meaning that they will draw only 7W if kept at a cooler 80*C. The TDP is calculated with a processor temperature of 105*C, the highest the chip is allowed to achieve. It's not clear if these processors will work their way into the MacBook Air and other Ultrabooks or tablets, but I have a feeling they will.