I'm sure you didn't see this one coming, did you? Neither did I, don't worry. Spanish site BitDreams.se has posted what they are claiming to be the specs on AMD's upcoming next-generation dual-GPU, the Radeon HD 8990.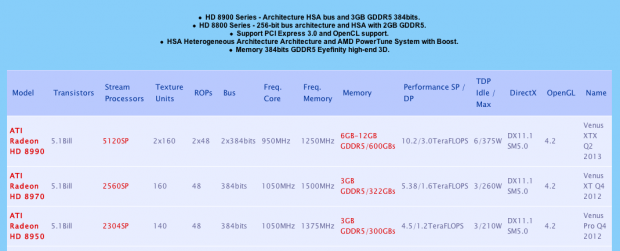 The leak reports that we should expect the HD 8990 in Q2 2013, meaning it is not far away at all. The leaked roadmap unveils that there are two Radeon HD 8800 series GPUs to be shipped this quarter, and with just weeks left, if it did happen, it's most likely going to be a paper launch - if it happens at all.
Now that we've got the lower-end gear out of the way, let's get straight to that succulent GPU meat - the Radeon HD 8990 "Venus XTX" which will see two Radeon HD 8970s bound onto the single GPU. The card is teased as sporting a whopping 5.1 billion transistors, 5210 stream processors and 160 texture units per core. The HD 8990 is listed as featuring 48 ROPs per core, and two 384-bit buses. Memory should reach the dizzying heights of between 6GB and 12GB and should come factory clocked at 1250MHz. The GPU cores should be set at 950MHz if the leaked roadmap holds truth to it.
Power. Power is a huge part of GPUs, and the card is mentioned of having a maximum TDP of 375W and that each core and memory on the dual-GPU card will be set lower than a single HD 8970's clock. This will mean that Radeon HD 8970's in CrossFire would be more powerful, by a small margin, than the HD 8990 - but we're used to that by now.
6GB-12GB of RAM is absolutely insane - a true monster for PCs, but just how many games take advantage of that now? Even with multiple monitors and insane amounts of anti-aliasing, I can't see any gamer getting close to 12GB of VRAM usage. Next-gen games can't come soon enough!