Google Now gets updated, has better travel features and improved voice search
Google Now has been updated, improved travel and voice search features.
Published
1 minute & 17 seconds read time
One of the best features of Android 4.1 and 4.2 Jelly Bean is Google Now - I loved it in my reviews of the mobile OS, but it has really grown into a powerful tool. I use it on the daily - and it has been updated today with some new and improved features.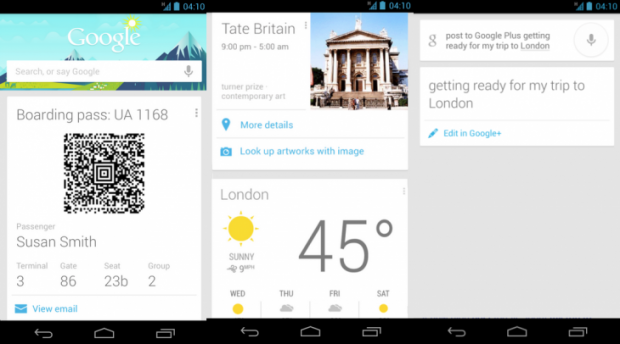 First up, Google Now has the ability to tell you the weather at you destination, if you were travelling, before you even step out of the house. Boarding passes will also display automatically when you arrive at the airport - but are exclusive to United Airlines for now, with Google saying they'll be adding more airlines in the future.
The updated Google Now features a list of events that are happening near you when you arrive at your destination, and the final update includes suggestions of websites for you to look at when researching things to do as well as learning about specific pieces while you're out - using Google Goggles. Google have rejigged the Voice Search, where you can now ask "What's this song" and it will try its hardest to find it for you. I tried it with it by saying "What's this song" and all it would come up with is "What is this song" and display results for "this song" - all while I was bopping to Gangnam Style.
Google have also included the ability to post to Google+ by just saying so, which is handy. A full list is below:
New cards: Events nearby, Suggestions to help with your research, Boarding passes from Gmail (United only, more to come), Search by camera when at museums or shops, Weather at upcoming travel destinations, and approximate monthly summary of walking and biking activity.

New voice actions: Post to Google+, Say "What's this song?" to find the song you hear, and Say "Scan a barcode" to find product info.
Related Tags