Google's latest iteration of their mobile OS, Jelly Bean, has enjoyed a good start so far - but just how much of the mobile OS market share has it stolen from its siblings?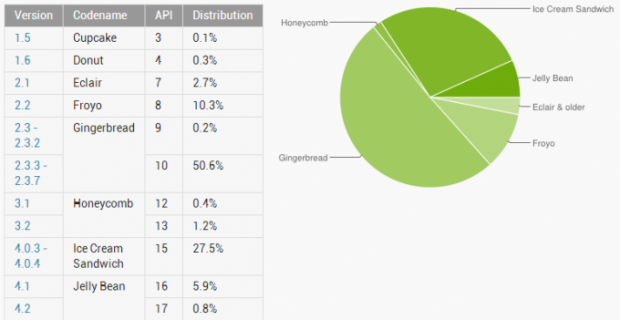 In the last thirty days alone, Jelly Bean has had a nice boost in scooping up more market share thanks to people buying Jelly Bean-based devices like the incredible Nexus 4 which comes with Android 4.2 Jelly Bean on-board.
Since November, Jelly Bean has seen a huge 4% jump in market share - reaching 6.7% total. Splitting hairs, 5.9% of those are on Android 4.1 and the remaining 0.8% are on Android 4.2. Ice Cream Sandwich users (Android 4.0) enjoyed an increase of just 1.8% with a total of 27.5%.
Gingerbread still peeps its head over the half way mark, with 50.6% - but ICS and JB should start chewing through Gingerbread's numbers soon enough. The sampling process keeps a track of the version of every phone that visits the Google Play store over a 30-day period. This means that devices that don't visit or use the Google Play store and its various services don't get counted on these numbers.
I think we'll see ICS slide to around 40-50% this time next year, JB will ramp up to 20-30% and Android 5.0 will be where Jelly Bean is now, at under 10%.