Google's Knowledge Graph learns about medicines, now displays info when a medicine is searched for
Google adds medicines to its Knowledge Graph product, lists side effects and other key information.
Published Fri, Nov 30 2012 7:28 PM CST
|
Updated Tue, Nov 3 2020 12:26 PM CST
Google has known about medicine since 2010, but Google's Knowledge Graph has just learned about the various drugs available in a bit more detail. Previously when a drug was searched for, Google would display a short paragraph and links to lists of the various side effects and other information.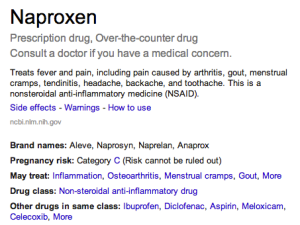 Now, Google is utilizing its Knowledge Graph product to display more information about drugs directly on the search page. In collaboration with the US FDA, National Library of Medicine, the Department of Veterans Affairs, and others, Google's Knowledge Graph will now display side effects, pregnancy risk, drug class, and related medications.
Of course, the information still comes with links to in-depth readings about the drugs. The Knowledge Graph launched back in May 2012 and has since learned many new facts and has become better at answering questions. It's one of Google's ways of making search and finding answers easier for the common user.
Related Tags