Microsoft claims Google users are getting 'Scroogled' by not using Bing when shopping online
A new campaign launched by Microsoft against Google claims its users are getting 'Scroogled' when sh.
Published
0 minutes & 53 seconds read time
Microsoft has been directing the majority of its marketing campaigns lately directly at Google with its recent campaign pitting Bing directly against Google in blind tests comparing the two services. This week, the company has launched another campaign, this time, going against Google's Shopping search results.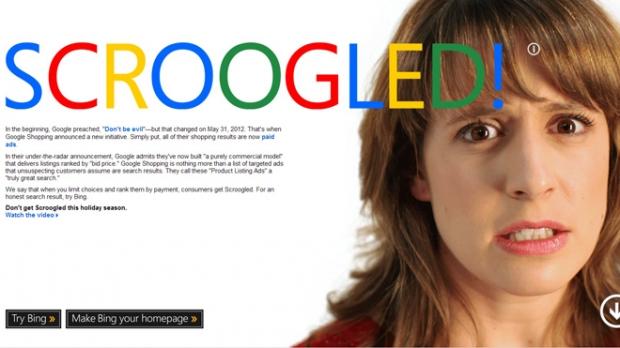 According to Microsoft's new "Scroogled" campaign, it's suggesting Google users are getting the short end of the stick when they search in Google's Shopping section as those results are paid for and not based on relevance of what users are searching for.
"They Scroogle you by defining relevance as how much they're getting paid. Don't get scroogled, you may be missing out on the best prices and highest quality products."
Of course, seeing as Microsoft is behind the campaign, the company suggests Google users who are looking for a shopping experience that isn't based off how much merchants are paying to have their goods listed on Google's Shopping should move over to Bing this holiday season.
With the holiday shopping season currently in full swing, this is a campaign that will certainly get a lot of attention and may actually entice some Google users to use Bing for their holiday shopping needs. Or they could just buy their loved ones gift cards and forget all of the nonsense of holiday shopping altogether.
Related Tags