There's quite the gaming bundle available right now offering some amazing prices on a bunch of great games called the Humble THQ Bundle. Pay $1 or more for Steam keys for Company of Heroes (and its two full-blown expansions Opposing Fronts and Tales of Valor), Darksiders, Metro 2033, and Red Faction: Armageddon.
If you pay over the average price ($5.75 will do) you'l receive all of those games, as well as Saints Row: The Third. The games bought will be available through Steam, and included in the bundle are a collection of DRM-free soundtracks! You really can't go wrong here, folks.
Buying all of these games separately would set you back $190, but THQ are letting you, the consumer, set the price. At the time of writing, there had been close to $1.7 million paid with the average price of $5.71. Nearly 295,000 purchases with the top contributor being "Jason Rubin" who contributed a very nice $1050. Turtle Rock Studios' contribution of $1024 is second and @WrapBootstrap is third with $1000.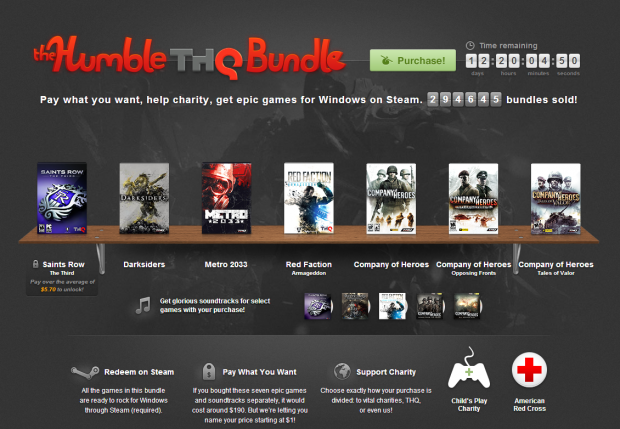 You can choose how your contribution is split - between the Child's Play Charity, the American Red Cross and/or THQ.