Go Figure: UK movie pirates spend more at the box office than non-pirates
Hyrbid pirates spend way more money on entertainment than completely legal consumers.
Published Fri, Nov 23 2012 1:32 PM CST
|
Updated Tue, Nov 3 2020 12:26 PM CST
It's a constant message repeated by the RIAA, MPAA, and others: Pirating is bad. However, a new study conducted in the UK has shown that UK customers who pirate end up spending way more at the box office than those who don't do any sort of illegal file sharing. It's the type of findings that the RIAA don't like people to hear.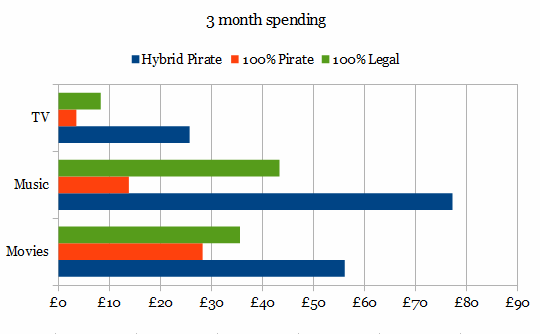 The survey, conducted by OFCOM, interviewed 4,400 Internet users aged 12 and up. The resulting 94-page report shows that 16 percent of respondents had downloaded at least one item illegally and one-quarter of the group consumed only pirated content. The flip-side of this is that 75 percent of the pirates also pay for digital content.
The so-called "hybrid" pirates make up roughly 12 percent of the British population and the report claims that people in this group spend up to three times as much as non-pirates on legal purchases. 48 percent of respondents said they download illegally because it's convenient and 44 percent said they do it because it's quick.
Related Tags