US requests the most user data from Google, followed by India and Brazil
The US requests the most information from Google about users.
Published Thu, Nov 22 2012 8:05 PM CST
|
Updated Tue, Nov 3 2020 12:26 PM CST
Google updated its Transparency Report last month and it now shows more data than it previously did. The new information includes numbers on government requests to Google for user data. This means Google is reporting how many warrants or other requests for information (subpoena, etc) they get by which governments.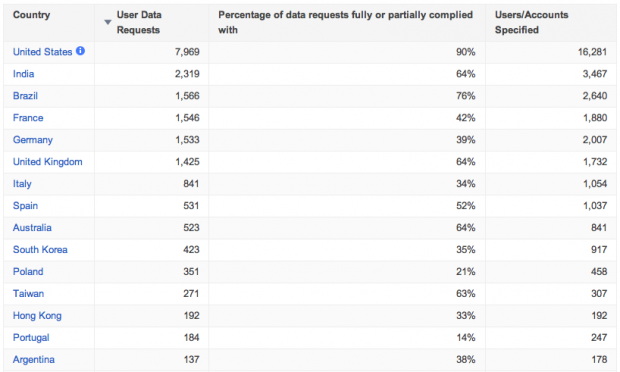 I'm sure you can guess which country makes the most requests of Google, and, no, it isn't Iran or China. In fact, it's the United States and Google says most of the requests are to aid in criminal investigations, however, Google "can't always be sure that a request necessarily relates to a criminal investigation."
Go figure. Following the United States, India, Brazil, France, Germany, and the United Kingdom have the next highest number of requests, but they are a good distance behind the good ol' US. The US has requested nearly 8,000 times about more than 16,000 users. 90 percent of these requests have been partially or fully complied with.
India, the number two country, has only filed 2,300 requests about 3,500 users. Only 64 percent of those were partially or completely complied with. Of course, Google says they take care when complying with requests:
When we receive a request for user information, we review it carefully and only provide information within the scope and authority of the request. We may refuse to produce information or try to narrow the request in some cases ...We take user privacy very seriously, and whenever we receive a request we make sure it meets both the letter and spirit of the law before complying. When possible and legal to do so, we notify affected users about requests for user data that may affect them.
It's for reasons like this that it's best to have your own server at home as the police would have to come to your house and pick it up if they wanted data off of it.
Related Tags