NPR ran a story this morning after talking with scientists at NASA. It seems as though the Curiosity rover has found something incredible on the surface of Mars while analyzing soil. The SAM instrument, which is a miniature chemistry lab, is capable of figuring out what a sample is made of.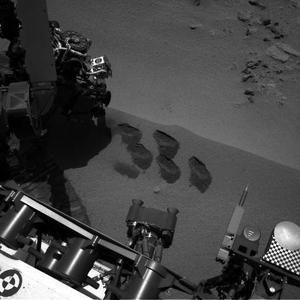 Data from SAM is currently coming back to NASA and it "looks really interesting." Of course, the scientists don't want to jump the gun announcing something that later turns out to be false. They almost had this happen back when the rover detected methane. It turned out the methane had come from air Curiosity had brought from Florida.
John Grotzinger, the principal investigator for the rover mission: "We're getting data from SAM as we sit here and speak, and the data looks really interesting. The science team is busily chewing away on it as it comes down." He adds: "This data is gonna be one for the history books. It's looking really good."
We won't know the details of what Curiosity has potentially discovered until a few weeks have passed. Until then, look forward to some potentially big news coming out of NASA. Let's hope the discovery is enough to get congress to increase funding for the space group.