Google to bring December back to Android 4.2 after bug removes it
Google's Android 4.2 tries to give everyone vacation over December, leaves it out of date picker.
Published Tue, Nov 20 2012 4:29 PM CST
|
Updated Tue, Nov 3 2020 12:26 PM CST
Google's Android has suffered a rather embarrassing bug. In the latest version, 4.2, December is conspicuously missing from the date picker. This makes it rather hard--well, impossible--to enter birthdays, appointments, and really anything else that requires use of the date picker. The bug does not affect the calendar.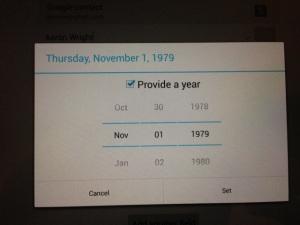 It's not clear how Google engineers could have made this oversight, but one thing is clear, they are working on fixing it, but have not given a specific time frame. Google made the following post on the Android Google+ feed, which describes the bug and says they will have it fixed "soon":
We discovered a bug in the Android 4.2 update, which makes it impossible to enter December events in optional fields of the People app (this bug did not affect Calendar). Rest assured, this will be fixed soon so that those of you with December birthdays and anniversaries won't be forgotten by your friends and family.
The bug was first found five days ago, but Google did not acknowledge it until just today. Since I don't know the cause of the bug, I can't offer a better timeframe than Google's "soon." But I have a feeling Google's "soon" is sooner than most other people's "soon." We'll be sure to update you when the patch is out.
Related Tags