Wii U charges $.50 for minors to access Nintendo Network
Nintendo charges $.50 for minors to access the Nintendo Network.
Published Mon, Nov 19 2012 9:26 AM CST
|
Updated Tue, Nov 3 2020 12:26 PM CST
Since the dawn of the Internet, many have attempted to save minors from experiencing the beast that is the world wide web. Age-gates are used for a number of video game websites as well as other adult material on the web that vary from asking "Are you over 18?" to something a tad more thought provoking like requesting the user's birthdate. Nintendo's Wii U has introduced its own age-gate of sorts for minors who would like access to the Nintendo Network at the cost of their guardians.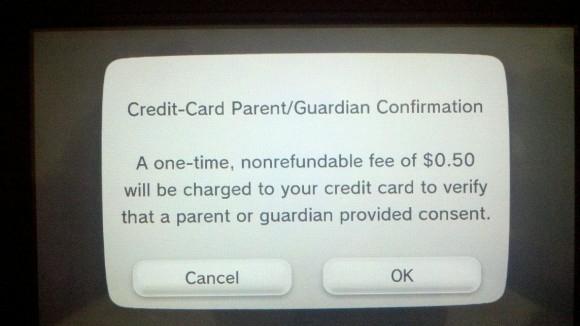 When a user registers their account to be connected to the Nintendo Network, they'll be asked if they're over 18 years old. If they are, the user can just continue on and finish the sign-up process without thinking twice of their honor of being an adult.
If a minor creates their profile and registers for the Nintendo Network, they'll be asked to obtain the approval of their parent or guardian by having the amount of $.50 charged to the adult's credit card.
This by no means should be considered a ton of money, but seeing how easy it is for minors to "fool" the Wii U by just answering "Yes" to the "Are you over 18?" question, it seems silly to charge those honest kids out there who admit they're under 18.
What I also don't understand is the $.50 charge. I've been through a number of websites that require adult verification, and the charge for those sites has been way less, sometimes even $.01. Why Nintendo decided $.50 would be a suitable charge is something they'll hopefully answer in the coming weeks. For now, if you're a minor and don't want to go through this hassle, just lie to the Wii U and enjoy the goodness of being an adult for once.
Related Tags