Google Nexus 4 brings Google to their knees, more stock to arrive "within three weeks"
More Google Nexus 4 smartphones to ship to customers "within three weeks"

Published Thu, Nov 15 2012 9:32 PM CST
|
Updated Tue, Nov 3 2020 12:26 PM CST
I was lucky enough to get in and get a Nexus 4 in Australia within 20 minutes, which felt like no effort at all - although my delivery was meant to arrive yesterday, I rang FedEx and they've said that there was a stuff up with Google, and it has been delayed in China - boo. Now I won't get my Nexus 4 until next week - #firstworldproblems.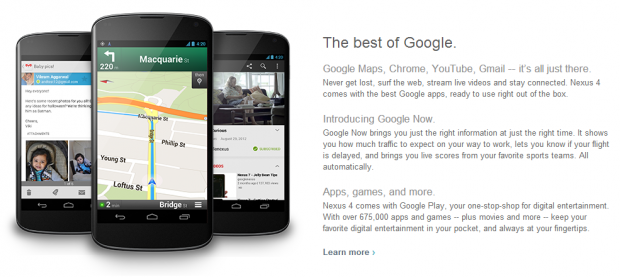 Well, those not lucky enough to score a Nexus 4 will have to wait another few weeks, as the Mountain View-based search giant have been sending out emails to those who backordered a Nexus 4, telling them to expect a Nexus 4 to ship out "within three weeks". Google have decided to be a great company here, and in order to stem the pain of not scoring a Nexus 4 with the first batch, they're waiving shipping charges and will allow consumers to cancel their stock if they find a Nexus 4 at a local T-Mobile dealer.
The email from Google:
Thank you for your recent purchase on Google Play. Due to overwhelming demand, your Nexus 4 is on backorder and is expected to ship within three weeks. We'll send you a notification when your order has shipped and will credit the shipping charges.

To check the status of your order at any time, visit the link below: https://wallet.google.com/manage/#transactions

If you would prefer to cancel your order, please reply to this email and our team will assist you. Or you can cancel your order using our online tool. Please follow the instructions found here:

https://support.google.com/googleplay/bin/answer.py?hl=en&answer=2423477

We apologize for any inconvenience and thank you again for your order.

Thanks,

The Google Play Team
Related Tags