News outlet CNN were notified by a Denver Metro area man of a UFO he recorded on his digital camera. He stood on the hilltop of Federal Heights, Denver and pointed his camera south toward downtown Denver capturing caught footage of an unidentified flying object. The man caught the UFOs flying at between noon and 1pm. The UFOs are flying too fast to see with the naked eye, and can only be spotted when played back on video.
Steve Cowell, Aviation Expert, former commercial pilot, instructor and FAA accident prevention counsellor. "That is not an aeroplane, that is not a helicopter, those are not birds, uhhh, I can't identify it". Cowell told CNN that he knows of no aircraft that can fly that fast. Cowell did state that there was one other possibility, "perhaps there's some sort of debris, that is being raised up by some of the atmospheric winds".
But in his professional opinion, he tells CNN "it is an unidentified flying object". The Federal Aviation Association (FAA) monitors all air traffic across the entire of the United States, and sent the CNN a statement saying:
We've checked with Air TrafficControl and no one has had any reports of the activity you described. Nor have any of our employees observed any of this nature either visually or on their radar displays.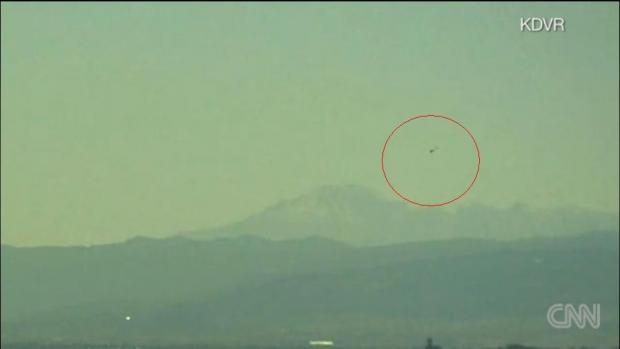 The North American Aerospace Defense Command (NORAD) is located in Colarado Springs, who monitor the skies in case of an attack on the United States. NORAD gave the CNN the following statement:
Our Command Center reviewed their records and they did not have any noted air activity in the Denver area during the times you indicated.
We have both the FAA and NORAD not being able to track this object flying through the sky - and debris? Really? It's shooting up awfully quickly for debris and seems to be able to change trajectory pretty damn quickly. Denver is said to be a hotspot for this activity - anyone in and around the area that would like to comment?