Viewers hate buffering, will leave a video after two seconds of waiting according to new study
After two seconds of buffering, viewers will leave - have no patience - according to new study.

Published Mon, Nov 12 2012 12:27 AM CST
|
Updated Tue, Nov 3 2020 12:26 PM CST
Put your hand up if you're one of these people - throws hand in the air - yes, I admit it, I have the least patience when it comes to buffering a video. Well, a professor has now analyzed data from 6.7 million unique visitors, and has bashed his fingers on that calculator.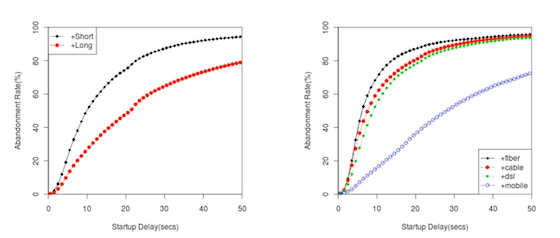 According to a paper published by professor Ramesh K. Sitarman of the University of Massachusetts, Amherst, viewers begin to leave a video after a two second delay, with 6% leaving per second thereafter. The professor took into consideration videos under 30 minutes as "short", where I would consider a short video 1 minute, so your results may vary applies here.
But, his data does add up, with twice as many viewers leaving a "short" video, compared to long ones after a ten second startup delay. The report also finds, most obviously, that users' impatience with Internet speeds looks like an unwinnable battle. Viewers with higher-speed Internet connections had a much weaker tolerance for delays when compared to those with slower, or mobile data connections.
Professor Sitarman's report comes from data collated from content delivery company Akamai, which is used by heavyweights Adobe, Starz, USA Today, Verizon Wireless and more.
Related Tags