I wrote an editorial regarding Apple a month ago now, and it seems that my words are ringing more and more true every day that passes. Apple's stock prices hit a peak of just over $700, where virtually every news outlet was covering it.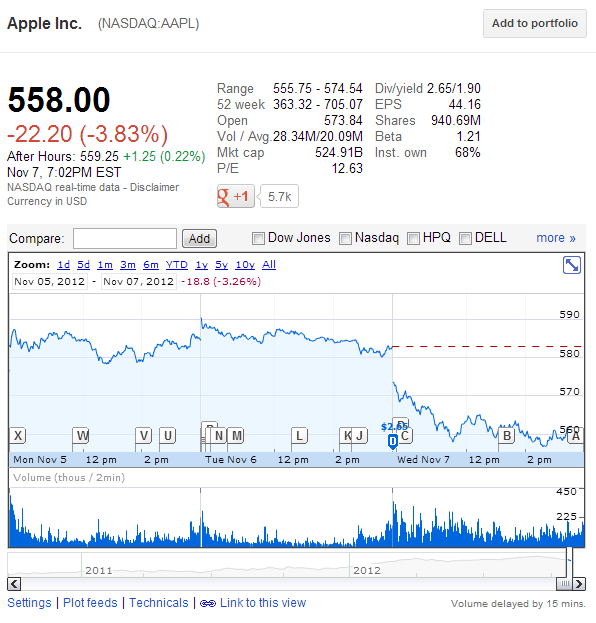 Now that Apple stock prices are tanking, we're not hearing about it. We're not a biased news site, so you won't just get news when tech companies are doing glowingly well, as it's when they're doing bad that we should really stand up and pay attention. Think about it, in the last month, we've seen some of the biggest releases from Apple, and I would dare say the most amount of releases of top-end products from a company, ever.
We've seen the iPhone 5, fourth-generation new new iPad, the iPad mini, new Retina-based iMacs, the 13-inch MacBook Pro, and new iPods. On top of this we've seen the launch of iOS 6, and OS X Mountain Lion. With all of these releases, one would think that Apple would be hitting the high notes and seeing their stock prices climb, considerably.
Instead, they're falling, badly. Apple prices - at the time of writing - are trading at just $558. At the time of writing my editorial, Apple were trading at $661. So we're already talking of a $100 drop per share in just under a month. If you had millions of dollars of shares, you would not be a happy chappy right now.
Where to from here? I think we're going to see Apple stock normalize to the $350-$400 mark within the next month or two. There's nothing Apple can do to stop this, if pushing out new iPhones, iPads, and iDevices isn't helping - what can? Nothing. Apple stock was far too overvalued and will now slowly come back down. Those who sold at the peak, will be laughing, those holding onto stock, will be iCrying.