The IDC's latest numbers are here and it is reporting that tablet numbers have increased by 6.7% in the quarter just gone, and 49.5% year-over-year. Apple enjoying shipping just over half of the 27.8 million slates across the world, but they lost a considerable amount of market share.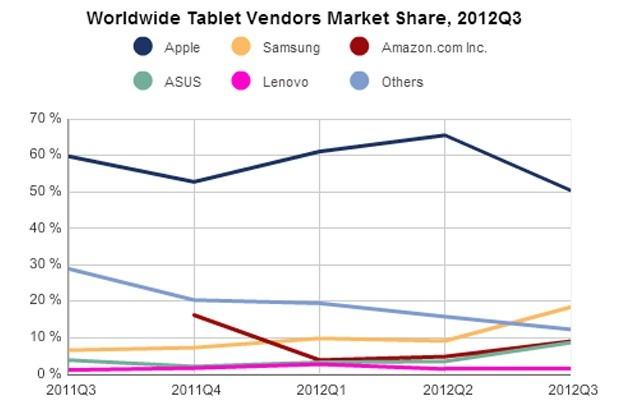 The iPad maker had 65.5% of the market in Q2, but dropped down to just 50.4% of the market in Q3 - a huge drop. IDC says that this is because people were holding off for the iPad mini - but I don't agree with that. There can't be that many people in the market knowing three months out that there was definitely going to be a new iPad on the market.
Samsung were number two, increasing their market share to 18.4% thanks to their Galaxy Tab and Note 10.1 products, with Amazon and ASUS having a great quarter also. Kindle Fires and Nexus 7's helped them ship around 2.5 million of each.
As for my predictions - Apple will continue this drop, their brand is losing power and people don't need a second, or third tablet. Unless they change it dramatically, and make the iPad something that not only completely blows away the competition, but is something different entirely, do you really need an even thinner, lighter, more Retina-bursting tablet?